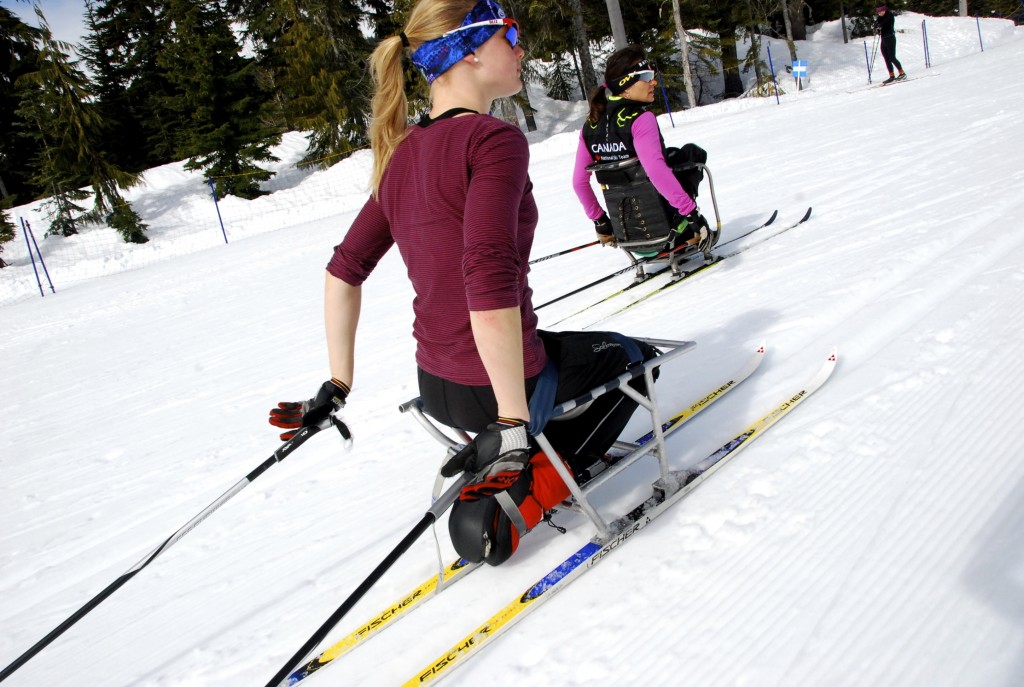 photo credit: D. Koerber RNSC
Work Party
Can you help out with our brushing party? We need about twelve volunteers. Brushing the trails extends our ski season at both ends considerably. It also makes our groomers jobs easier.
Please meet at the lodge at 9am on Saturday, November 3rd. Bring warm clothes, work boots and a lunch. Brush saws, fuel and safety equipment will be supplied. Brush saws are much easier and safer to operate than a chain saw. For more information, please contact Jeff Ferguson at 814-9304 or [email protected].
President's Report
Welcome to the start of what we hope will be another great season for the Revelstoke Nordic Ski Club.  The snow is quickly racing down the mountains, and if it is anything like last year, we may be skiing on groomed trails very soon. Last year our first track setting of the ski trails was November 14th with the new Ginsu Groomer and snowmobile!
A number of changes have happened since the end of last years ski season.  Thanks to the generous financial support from Ken Gibson with the Ministry of Forest, Lands and  Resource Operations, we now have a beautiful new Pole Barn to house our snowmobile trail grooming equipment.  It is located behind the Maintenance Building just a short distance down Mickey's Loop. Wade Viznaugh and Green Cat Steve were also instrumental in the construction of the lodge.
We are in the process of replacing two trail bridges; one on Creek Crawl in the dip up by the Olly Sandburg Hut and a second on BCIT.  This will make a big difference for our trail groomers and an improvement for the skiers. Thanks to Kevin Bollefer for taking on this challenge.
For those of you who have not heard, our current Coach, Andrei Pascu has had to resign due to family issues and will be returning to his home country of Romania at the end of October.  Thank you Andrei for your work and dedication to the club and our young athletes. The Club has successfully hired a new Coach, Matt Smider.  Some of you may have seen Matt last year volunteer coaching around the Lodge.  He commences his duties as our new Head Coach at the beginning of November.  Welcome Matt!
The other big upcoming event this year is that the Revelstoke Nordic Ski Club has been given the honour of hosting the prestigious BC Midgets Cross Country Ski Championship in early March 2013.  This is a huge vote of confidence from Cross Country BC in our Club, our trails and facilities, and our membership to be able to host such an event.   It will be a very exciting event to watch, volunteer, and for our young racers to
participate in.  There will be much more information on the Midget Championships in newsletters to follow.  Suffice to say, we are looking for 75 volunteers to help the Club successfully hold the Championships.
Finally, as always, the success of the Revelstoke Nordic Ski Club is entirely predicated on the dozens of volunteers; you give thousands of hours to make the Club what it is today.  If it were not for these people, we would not have a club with such great groomed trails to ski on, or any of the numerous children's and adult programs we are able to provide, not to mention any of our new facilities.  This is my lead in to say please ensure that you give back some of your time to the club in some volunteer capacity.  We have plenty of ways that one can volunteer from taking a shift in the Ticket Office, offering help on one of the Clubs special events, assist with coaching in the Children's ski programs, or getting involved in trail maintenance and grooming.   For more information on ways to volunteer, please contact the Club via our email address ([email protected]) or contact one of the members of the Club Executive.
Here is hoping for another great ski season and looking forward to seeing you on the trails!
Dave Kaegi
Club President
Thank you Andrei!
On behalf of the coaches committee, the club executive all the ski-league parents and the masters programs we want to sincerely thank you for your time here. You have provided excellent coaching for our kids and so many adult skiers too! Your dedication to the task was an "out of country" experience for us all.  You kept telling everyone "I wait for you", which pretty much sums up how dedicated you are. You taught and made people laugh at the same time – "your hips, your hips – keep your hips forward!" It will be impossible to forget how excited you got when someone got it right! We wish you well in your return to your other home. Your philosophy below will continue to resonate with us all. "Passion,perseverance, patience and a lot of hard work.. And one day, out of the blue, you will feel that the blue, you will feel that you can conquer the world: you will be a CHAMPION!"
Thank you and all the best
Welcome Matthew Smider!
We are very pleased to welcome our new head coach – Matt Smider! Matt worked with us last year and we feel he is well suited to continue to take us forward!
Please read on to learn more about Matt!
Hello Revelstoke Nordic Ski Club.
As the new Head Coach, I must acknowledge how honoured I am to accept the opportunity to return to Revelstoke and reconnect with the Nordic ski community. Working with athletes has been a long-standing passion of mine and I look forward to the challenge of helping skiers reach their potential this season.
After several seasons of chasing my parents down the alpine slopes, I wanted to expand my skiing experiences by trying cross-country skiing. At the ripe age of 7, I started in the Jackrabbit Program at the Laurentian Nordic Ski Club in Sudbury, Ontario. Cross-country skiing quickly became my passion and aspiring to be like the "older kids" led me to compete with the Laurentian Nordic Junior Racers during my high school years. Having been inspired by several well-respected coaches throughout my career, and having had them encourage me to coach, I elected to enter the world of ski coaching. As a ski coach, I have worked with Jackrabbit groups, Track Attack squads, Junior Race Teams and Para-Nordic skiers at both the Laurentian Nordic Ski Club and Walden Nordic Ski Club. I have also had the fortunate opportunity to volunteer with the Revelstoke Nordic Ski Club School Program and Jackrabbit Ski League during the 2012 season.
Another passionate pursuit of mine is sailing, both as a competitor and coach. As with skiing, I began the sport of sailing at the age of 7. I have coached sailing since the age of 16 and have spent the past five sailing seasons in Halifax, Nova Scotia working as a Race Team Coach, Program Coordinator and Canadian Yachting Association Learning Facilitator at the Royal Nova Scotia Yacht Squadron. Recently my competitive sailing has been focused on racing 18 foot catamarans known as F18s. In August of this year, my sailing partner and I captured the Canadian F18 Championships in Kingston, Ontario. In 2011, I graduated with an Honours Bachelor of Arts in International Development from the University of Guelph. A long-term goal of mine is to combine my interests in social development and my love for coaching sport.
As an experienced athlete and passionate coach, I am overwhelmingly excited to begin my role as Head Coach of the Revelstoke Nordic Ski Club. Whether I am working with Rabbits or Masters, Track Attack or Junior Racers, I am keen to share my knowledge and enthusiasm for cross-country skiing.
Para Nordic Program
The club is in the process of having a sit ski available for persons with a disability to use for the upcoming winter season.  We are working with the newly formed Revelstoke Adaptive program to provide services and equipment for the disabled community to better access our winter recreation areas.
There is a National Para-Nordic Development Training Camp for Athletes and Coaches or those interested in learning more in Canmore AB, Nov 22-25.  Partial subsidy is possible.
While we are mostly working on sit skis for the program we would like to invite anyone who needs adaptive equipment to access our services.
For more information on Para Nordic skiing please see the Cross Country Canada website at www.cccski.com/para‐nordic.aspx. Please contact Debbie Koerber at [email protected] for more information.
2013 Ski League
The Revelstoke Nordic Ski Club offers ski lessons for children and adults. The children's program meets every Saturday morning at the Mt Macpherson Nordic trails starting in Dec or January depending on level and run through to March.
Bunny Program (Age 4-5)
10 sessions
Start Date: January 5
Saturdays 10:30-11:30
$50
Jackrabbits 1,2 & 3 (Age 6-8)
15 sessions
Start Date: December 1 (snow dependent)
Saturdays 10:00-12:00
$75
Jackrabbits 4 (Age 8-9)
30 sessions
Start Date: December 1 (snow dependent)
Saturdays 10:00-12:00
Wednesdays 4:00-5:30
$120
Track Attack (10,11,12 yrs) $250
Start Date: December 1 (snow dependent)
Saturdays 10:00-12:00
Week Days 4:00-6:00
Junior Development (Age 13+) $350
The team is committed to the growth and skill development of young racers. The Junior Development Race team is divided into training groups based on competency rather than age. Training is aimed toward team participation in competition. Children will be encouraged to race but no child will race against their will.
Trailblazers (Ages 10 and up)
For skiers who want exposure to adventure activities such as avalanche awareness, other destinations, environment, survival etc. Successfully piloted last year, these adventure activities will again be offered.  Once registered in a program, skiers will be made aware of these special event days!
Adult: Intermediate and Advanced
This instruction is one night or afternoon a week. Become a member then stay tuned for start dates!
Learn To Ski for Ages 10 and up!!
This program will introduce slightly older children to Nordic skiing techniques with lots of fun!
30 sessions
Start Date: December 1 (snow dependent)
Saturdays 10:00-12:00
Wednesdays 4:00-5:30
$120
Adult Beginner Program
It's never too late to learn and stay fit on our fabulous trail system! Adults will get excellent instruction to ski with confidence.
15 sessions
Start Date: December 1 (snow dependent)
Saturdays 10:00-12:00
$75
For more information on these programs please visit our website!
2012/2013 REGISTRATION
Sign up at Members Night on Nov. 5, 2012 5:30 – 8 pm @ Nordic Ski Lodge, or go to www.revelstokenordic.org for a link to register through Zone 4. All registrations other than members night are through zone 4.
Deadline for registration is Nov. 30, 2012
For more information contact Ian Brown at [email protected]
If you are interested in volunteer coaching with the Bunny or Jackrabbit Programs, Please contact Janette Vickers @ 837-7410