Welcome to the Revelstoke Nordic Race Team Journal. Hear from athletes and coaches as they train and race and follow along with our season.
(Most photos by Maja Jacob)
January 7-8 – BC Cup #1
Whistler, BC
By Masters Racer Extraordinaire Rob Serrouya
The first BC Cup of the season took place in Whistler this past weekend, and 19 Revelstoke skiers made the trek over several mountain passes to compete under the iconic rings from the 2010 Olympics. Revelstoke athletes ranged from 12 to 51 years-old, emblematic of the "sport for life" concept that cross-country skiing represents.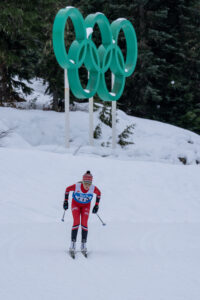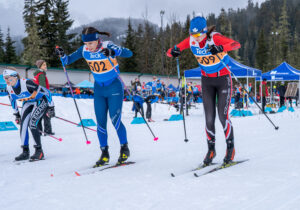 Saturday consisted of classic sprint races, which are much like a track and field event, with a qualifying round followed by heats that progress to a championship in the afternoon. The moist Whistler weather meant that our wax techs were hard at work applying sticky klister to ski bases to create the grip needed for the wet, slippery tracks. Tricky waxing conditions bring out the art of skiing, and highlights how teamwork to create fast skis combine with solo efforts to get skiers across the finish line. On Sunday, skiers raced using the skating technique, with distances ranging from  2.5 km to 10 km. The Whistler course is particularly tough, meant to challenge Olympic-level skiers with steep climbs, tight fast descents that don't allow for much recovery, as coaches yell "work the downhills!" to squeeze out every second from the speedy, wet snow. For some athletes, it was their first time competing at the Whistler Olympic park, and this excitement spurred many podium finishes and personal bests for these young skiers.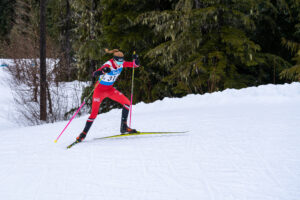 The key theme to a BC cup is to have fun, to promote participation and prepare kids for skiing competitively as they get older. For athletes aged 16 to 20 years old, this event took on a slightly more serious tone, because this Cup was a qualifier for Canada Winter Games in Prince Edward Island, in February. Like the Olympics, Canada Games are a multi-sport event that happen every four years, with athletes from 20 winter sports representing British Columbia on the National stage.  Six female and male skiers from across the province are selected to represent Team BC. By coming first and second in their U18 categories, Maeve McLeod (aged 17) and Ruby Serrouya (16) automatically qualified for the Games, along with Marlie Molinaro who won the U20 category. Alexandra Luxmoore was also selected, meaning that most of the female squad representing BC will come from Revelstoke! Four Revelstoke Masters also raced over the weekend, and although they are (much) too old to go to Canada Games, it's clear that they imagined the glory of these events while skiing under the rings. For Whistler, hosting 460 competitors served as a dry run for the World U20 and U23 ski championships that will be held in 2 weeks at the Whistler Olympic Park. Four Revelstoke athletes will be traveling to Prince George next week, attempting to qualify for these world champs. Other upcoming events include the BC Cup #2 which will be held in Revelstoke on February 18 and 19.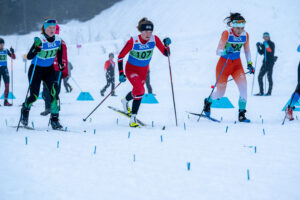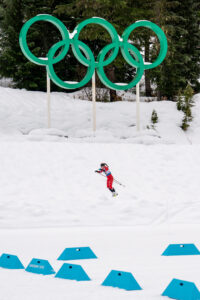 December 17 – Okanagan Cup
Revelstoke, BC
December 17th dawned cool and snowy while over 240 racers from around interior BC (and Ottawa/Gatineau!) prepared for the first Okanagan Cup race of the season.  This would be the first of 2 race weekends hosted on our home turf at Macpherson, and would see nearly 60 racers from Revelstoke race the clock from ages 5 to 50!

The theme was fun and mentorship.  Senior race team athletes met early to apply glitter and help the Revelstoke Jackrabbit squads prepare for what would be the first ever race for many of them.  The race course was lined with skiers, parents and fans with cowbells to cheer for racers from Revelstoke, Larch Hills, Overlander, Sovereign Lake, Telemark, Nickel Plate, Golden, Nelson, Rossland, and Nakkertok.
Much fun was had thanks to our many volunteers, parents, coaches, wax techs, and racers.  We'll see you all again in February for BC Cup #2.
  
December 11-12 – Alberta Cup
Canmore, AB
By Lutza Berkenbosch and Fiona Woodman
Day 1 
Classic Sprints and Mass Start Classic 
It was a beautiful sunny day in the Rocky Mountain town of Canmore, where the Revelstoke Nordic Team was gearing up for a fun day of racing! U12 and U14's doing a mass start classic 2.5km course and U16, U18 and U20's doing a 1km classic sprint. Cedar Jacob started first of the Revelstoke athletes putting out a strong qualifier and making heats where he ended up 1st for the 2008 boys. Revelstoke had many other strong results on the sprint day Alexandra Luxmoore 2nd, Ruby Serrouya 10th, Fiona Woodman 1st, Lutza Berkenbosch 6th. The younger athletes racing in the mass start weaved their way around pile ups into the top 10, Hamish Woodman finishing in 4th, Samuel Poulin in his first race ever with a 6th place finish, and a BC sweep in the U14 girls with Livia McMechan finishing 3rd and Ember Smith in 5th. A huge shout out to our amazing wax team for making our skis have good kick and fast glide with the inaugural use of the klister machine (us racers had no idea we had klister on our skis!).  A big thank you as well to our awesome cheer squad and our favorite head coach and motivator, Zach.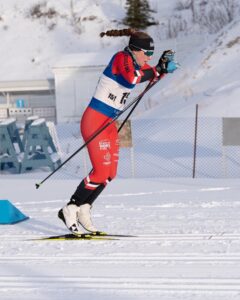 Day 2
Skate Interval Start
It was another gorgeous day in the Rockies, the sun was out and the adrenalin was high as we were racing at this former Olympic venue! For many of us, it was our first time skiing at the Nordic venue in Canmore. Starting off the day was Alexandra Luxmoore racing 12km in the U20 category and finishing with a fantastic 4th place finish. Not long after, we had our younger boys headed out to race; in the U14 category was Hamish Woodman finishing the day in 3rd place and in U12, Samuel Poulin, who also came in 3rd. Next were the U14 girls, who along with the U12 and U14 boys, did 3km. Livia McMechan and Ember Smith both finished with very impressive times, placing 3rd and 6th. The next skiers raced a speedy 3 laps around a 2.5 km course for a total of 7.5km. Cedar Jacob had a stellar race, finishing in 2nd place in the U16 2008 category. Shortly after Cedar, started Ruby Serrouya who finished in 1st place after a great race, showing all the work she has been doing since covid started. Our last racers of the weekend were the U16 girls, Fiona Woodman (2008) and Lutza Berkenbosch (2007) finishing 1st and 6th in their age category. Again, we couldn't have been as fast as we were without our amazing wax team making our skis fast and the cheering from all our coaches, parents and teammates. Fun was had all around as we wrapped up our second race weekend with great results and a happy team across the board.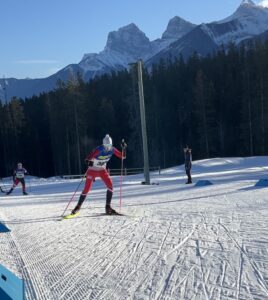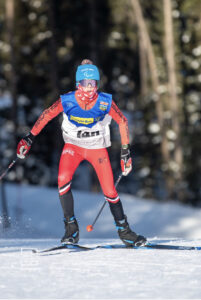 November 30-December 3 – Canada Cup + US Super Tour
Sovereign Lake Nordic, Vernon, BC
By Nyssa Thomas and Ruby Serrouya
Winter is here! The 2022-2023 race season started with the Canada Cup and US Super Tour races held at Sovereign Lake. As a Nordiq Cup and a part of the US Super Tour Series, skiers from all over Canada and the US participated in these races. Sovereign Lake held four races in five days, from November 30th to December 4th. Starting off the season with such a big race can be nerve racking, seeing as nearly 470 athletes were registered to race. Thirteen of these racers were Revelstoke Nordic athletes, with U18 and U20 athletes competing on Wednesday, and U16 athletes joining us for the weekend.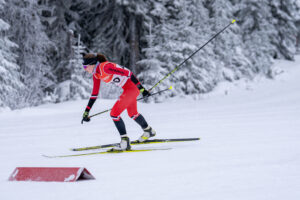 After two on snow training camps at Sovereign, the team arrived feeling confident in its technical and tactical skiing for the classic sprints on Wednesday. The morning before a race like a sprint qualifier there are a lot of steps we take to feel ready to race. We wake up and go for a run to get our bodies moving, eat a breakfast that will fuel us well, test skis, and do intensity to prepare our bodies for the hard effort, and this doesn't even compare to the effort that coaches and wax techs put in the morning of a race. All of this can start to feel like just a lot of build-up to such a short race, but we like to remember to enjoy the process of racing. While we love pushing ourselves in a race, many of our highlights from a race day are completely unrelated to results or competition. After a successful day of a qualifier and sprint heats with all Revelstoke athletes qualifying for heats, we headed home to go to school on Thursday and Friday. Arriving back at Sovereign on Friday, we were super excited to have more of our younger team members joining us for Saturday's skate sprints and Sunday's interval start classic race. The sprints on Saturday were an opportunity to race a different sprint course than we usually race at Sovereign, and Sunday ended up being perfect conditions for good wax all throughout a longer race. Throughout the whole weekend it was awesome to have a large group of Revelstoke athletes cheering out on the course.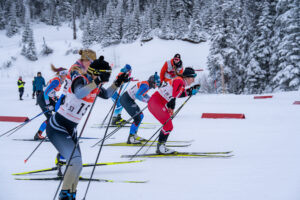 After a year of being unable to race, we are both endlessly excited to be back racing with the team and look forward to seeing younger athletes in the skill development program get their first race experience at the upcoming Okanagan Cup held in Revelstoke!
– Nyssa & Ruby