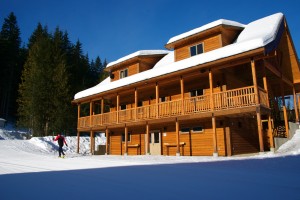 The Revelstoke Nordic Ski Club is situated on 2265 Highway 23 South, 7 kilometers from Revelstoke BC. Our club is not-for-profit and is member driven.
Our lodge is a three story building, hosting a caretaker suite encompassing the top floor. The comfortable public two stories include:
A common room with tables and seating capacity up to 50;
A full kitchen complete with plates, bowls, pots and cutlery;
A pellet stove adding an atmosphere you just can't get in town;
A large outdoor covered deck;
Indoor washrooms;
Potable water;
A smaller downstairs open space with cubbies.
Winter Season: During the cross-country season (December-March) our day lodge is open from 9am – 9pm for members and visitors to rest, eat, relax and enjoy. We do not rent the lodge during this time and do not allow overnight stays or organized gatherings for large groups. There is no public internet available. The winter lodge atmosphere is family friendly and inclusive.
Off Season Rental
During the off season (April – November) the RNSC is open to renting our lodge to the following types of organizations/groups:
Community groups in need of day space. E.g., Girl Guides nature day exploration.
As an administrative centre for events in the Macpherson area. E.g., Bike race on nearby trails.
A group looking to host a meeting. E.g., Parks Canada small group conference on tree ecology.
We are not equipped to host:
Weddings
Social gatherings that involve alcohol
Late night gatherings
Groups overnight
Groups that would like to have animals in the lodge
Events/gatherings after 6pm
Birthday parties
Rental Cost:
Required Damage Deposit: $200
Full Day Rental (7am-6pm): $250 + tax
Cleaning Fee (If required as renter has not cleaned satisfactorily): Cost subject to available professional cleaner.
Further Information:
Internet: As we are outside the city limits our internet is an unreliable hub system. We do not normally include internet capabilities in our lodge renting but will be open to discussion if this is necessary for the event.
Washrooms: The RNSC lodge operates on a septic system. Due to the sensitive nature of this system it can not handle large use in a short window but rather is designed for slower use over longer periods of time. If your event is over 15 people and/or is designed to have people start an activity at one time (e.g., a race) you will need to rent port-a-potties in order to rent the lodge.
Noise: The RNSC Caretaker lives in a suite encompassing the upper floor of the lodge. In considering rental use of the lodge we will take into account noise of your group/event. There is a noise black out between 9pm – 7am. We expect the event/gathering to be done by 6pm and that cleaning will be done by 7pm. (At the discretion of the RNSC a later end time may be considered.)
Cleanliness: All groups will be expected to clean the lodge and decks after use. If this is not done satisfactorily a cleaning charge will be taken from the rental deposit.
Garbage/Recycling: As we are not on the city's refuse/recycling pick up route you will need to take your garbage and recycling with you at the end of your stay.
Animals: While we do have rodent control in place, we are in a rustic setting. From time to time a sneaky little critter enters the building unbeknownst to us. We ask that all users keep the doors shut as much as possible to deter these entries.
NOTE: The RNSC lodge is situated on Recreation Sites and Trails BC (RSTBC) land. We have tenure for our buildings but if you are wishing to host an event that goes beyond our structures you must consult with RSTBC and acquire any necessary permits.
If you are interested in renting our space or have questions please be in touch at [email protected]