Welcome to all things RNSC Canine! It wasn't too long ago, 2014, that we trial ran having a section of trail available for dogs and their owners to ski. What a success! It was no question on whether or not we should keep the access open and are happy to welcome this new furry group of "skiers" to our trails.
Part of our great success is the respect by owners to our trails and other skiers. New to our trails? Need a refresher on dog etiquette? Make sure to read through this page so you and your furry friend will make friends not foes out on the trails.
Free Dog Training
New for the 2022-23 season, the RNSC offered 3 x 1 hour classes for our members with four legged companions: Introduction to Skiing with your Dog! The class provided an overview of what participants needed to know to have a successful ski season with their dog. Participants learned how to manage their dog on a leash for the leashed portion of our trail, how to build recall so they could call back Fido from running after others, how to keep their dog's paw pads happy even with the snow, and a number of tips and tricks for a happy ski season. This class is only appropriate for dogs who are comfortable being around other dogs.
Sessions were free and open to RNSC members only. All registrants must have already purchased their 2022-23 RNSC membership and have checked they ski with their dog before registering for the dog training session.
Thank you to dog trainer Lynn Gagnon who lead the sessions – a great success!
Canine Newsletter
The RNSC sends out newsletters specific to dog owners that inform on all thing canine and Nordic. When you register for your annual membership make sure to check the "ski with dog" box so you will automatically be put on the receiving list of this newsletter. Currently not a member but would like to be on the list? Let us know at [email protected].
Revelstoke Nordic Club Dog Code of Conduct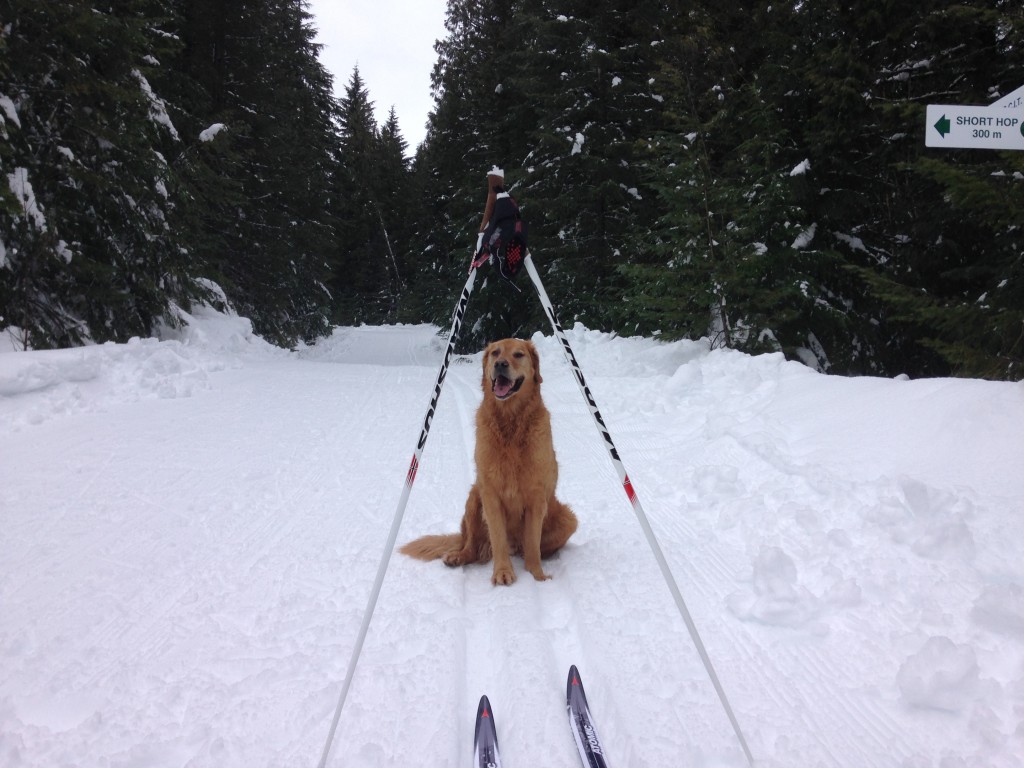 Dog owners are responsible for their dog's behaviour.
The owner of a dog is responsible for maintaining control over their pet and to be in abidance of any bylaws etc. that govern having a pet in public.  If a skier is interfered with by a dog and suffers bodily injury, and they sue the dog owner and the club for damages, the club will be fully protected under the CCC/CCBC liability insurance policy.  However the owner of the dog has no protection and is personally responsible for their dog's actions just as they would be in other similar settings.
In consideration of other trail users, please respect the following rules:
Dogs are not permitted inside the lodge or on the deck.  Please do not tie your dog to the lodge.
Individuals are allowed to ski with a maximum of two dogs on the designated dog trail(s).
Dog friendly trails are: Roadway Ramble, Easy Al's, BCIT and Connectors – Short Hop, and Ellie's.
Backcountry skiers accessing the Fingers must have their dog leashed on Main Loop (ascending AND descending).  Dogs may be off-leash once off RNSC trails.
Dogs must be under control at all times either by reliable recall or leashed.
The Parking Lot and Stadium Area is a MANDATORY ON-LEASH area for all dogs at all times. Please respect that the parking lot is shared with children and other members.
 Dogs must be on-leash from the parking lot along Roadway Ramble until the off-leash sign at the end of our neighbour's property. Please re-leash on your return.
Any dog poop must be removed from the trail, preferably with the provided trowels.
Policy infractions will be investigated by the RNSC dog liaison and reviewed by the board of directors.
Roadway Ramble – Why And Where Are Dogs On-Leash?
Our dog policy states that dogs must be on-leash in the parking lot at all times, and used to say for the first 200m of Roadway Ramble. With our new neighbours we have extended the 200m to the end of their property. There is a sign denoting the transition zone with "off-leash" for those heading out and "on-leash" for those heading back to the parking lot.
If you can voice command your dog, this is where you can let them off-leash. Be sure to re-leash them on the way back.
There are a couple of reasons on why we ask for dogs to be leashed on the first part of Roadway Ramble – coming and going:
It would be horrible to have a dog/car collision, to avoid this dogs must be leashed in the parking lot and all the way to the yellow sign at the end of our neighbour's property. This will get your dog in the rhythm of skiing and avoid the highway as well. 

We have new neighbours =) They are fantastic and we want to respect their land. With the new driveway and open spaces it looks like an adventure paradise to our furry friends. We ask you keep your dog leashed to the end of their property so we don't have any exploratory "roamers".

It is hard for an on-leash dog to meet an off-leash dog. By having a clearly defined transition place we keep the "playing field" level for all dogs.
Thank you for respecting other dogs, our neighbours and other members by adhering to this on-leash zone!
The Orange Shovel System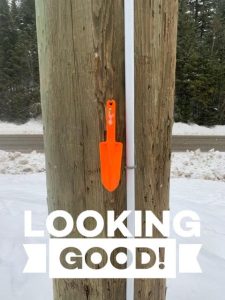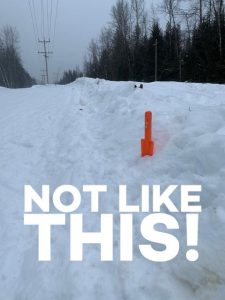 The orange shovel system has worked well for our club, helping to keep poop off of our trails and the snow clean for skiing. Here are some reminders on how the shovels should be used:
Shovels are placed along all dog trails hanging from posts for anyone to use.
Shovels must be rehung after use. Those put in a snowbank will disappear with the next snowfall or groomer coming by. Disappearing shovels are an expense and not quick or easy to replace.
Use the shovels to get all fecal matter off and out of the snow, flinging it into the woods or into your disposable bag. Make sure to clean the shovel in the snow before returning it to the post!
If you see a post with many shovels, grab one and ski it to an empty post. Chances are there is an empty post nearby.
Think we have a gap in our posts? Let the office know!
Dog Poo Bins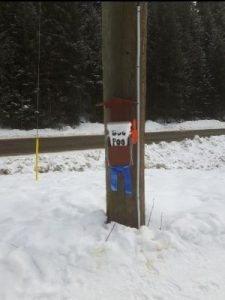 We have noticed that some of you prefer to bring the green compost bags to clean up after your dogs. Fantastic! To help you along with this we have put out 2 disposal hutches – see photo to the right. One is located at the beginning of Roadway Ramble and one is halfway along.
Please, no garbage in these bins as they are not meant to hold a lot of material.
Also, we've noticed the wind is wreaking havoc on the pick-up bags we have placed by the bins so we will not be stocking them heavily. Thanks for bringing a couple in your pocket so you are sure to have them.
Please note that our neighbours have put out their green garbage bin by the road. This is not a disposal place for dog poo bags!