Adult Programs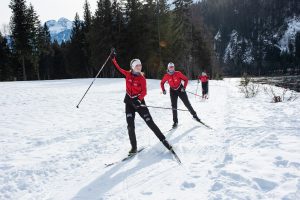 Master's Winter Ski Training 2022!
We are offering Master's Skiing beginning January 3, 2022.  THREE sessions to choose from!
Intermediate/Advanced Masters – Tuesday nights with Zach Hill
We are very pleased to have our head coach Zach Hill leading this series of  Intermediate/Advanced Master's sessions  this winter. Learn to ski faster with less effort! These are fun technique oriented sessions aimed at intermediate/advanced skiers looking to improve technique, ski with more efficiency, and as a result gain speed in their skiing. Participants should be reasonably experienced skiers looking to refine technique rather than learn the basics. We will generally be alternating between classic and skate each week – watch for an email prior to each session. 
Tuesdays 7:00pm – 8:30pm January 4th – March 1st 
$135 (plus taxes and fees)
SKATE ONLY Masters – Thursday Nights with Kurt Mohr
By popular demand!! We are excited to be able to offer two SKATE ONLY weekly Master's groups. These sessions are geared toward intermediate skate skiers looking to improve technique in a fun group atmosphere. CANSI certified coach Kurt Mohr will lead this group through skills and drills intended to improve your skate skiing technique and build fitness. 
Thursdays 5:30-7:00pm  January 13 – March 10th   $135 (plus taxes and fees)
Thursdays 7:00-8:30pm  January 6 – March 3rd   $135 (plus taxes and fees)
Email programs@revelstokenordic.org for more information.
Register for Masters skiing now on Zone 4
Lessons
Lessons for the 2021-22 season will be dependent on the BC COVID regulations. During most of the 2020-21 season we were limited to 3 people for a group size. We will keep this page updated as information comes forth.
1 hour lessons cost $50/person for private; $40/person for semi-private; $30/person for small group. Lessons generally require at least 24hrs notice to arrange. We can arrange lessons on most dates, however Monday and Tuesday, daytime or evenings, are typically the best availability for our coaches.
To book a lesson, contact our Program Coordinator: programs@revelstokenordic.org.
Prices do not include taxes, cc fees and zone4.ca processing fees. Rentals and trail passes are extra.