Adult Programs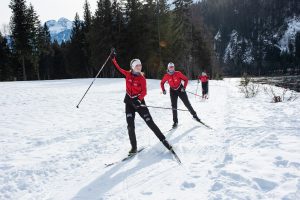 Master's Fall Training 2022!
We are offering Master's Dryland Training for October, 2022.  Four sessions will take place on Wednesday evenings from 4:30-6:00pm. All fitness levels are welcome but be prepared to work!
Cost (4 sessions): $48 + tax/fees
Register through Zone4: https://zone4.ca/register.asp?id=29695
Further fall and winter's masters programming coming soon!
Lessons
Lessons for the 2022-23 season will be dependent on the BC COVID regulations. We will keep this page updated as information comes forth.
1 hour lessons cost $50/person for private; $40/person for semi-private; $30/person for small group. Lessons generally require at least 24hrs notice to arrange. We can arrange lessons on most dates, however Monday and Tuesday, daytime or evenings, are typically the best availability for our coaches.
To book a lesson, contact our Program Coordinator: programs@revelstokenordic.org.
Prices do not include taxes, cc fees and zone4.ca processing fees. Rentals and trail passes are extra.