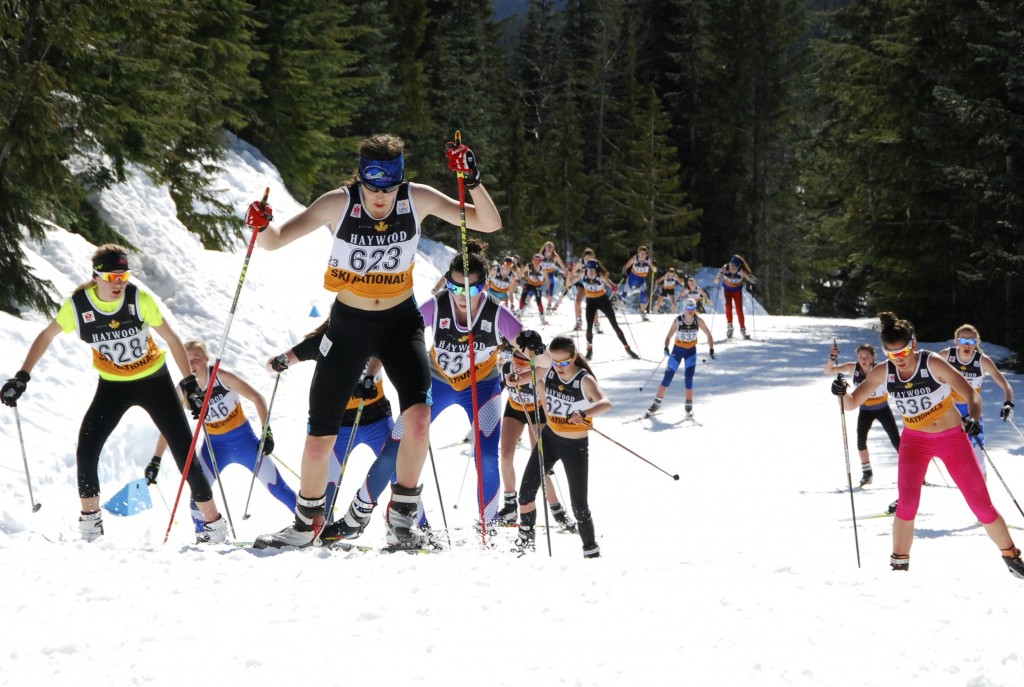 photo credit: D. Koerber RNSC
President's Report
It is hard to believe but we are nearing the end of the ski season.  All in all, I think it has been another very successful and productive season for the club.  The club had many successes this year including the hiring of a new Club Coach (Matt Smider), successfully holding the Teck BC Midget Championships, and the continued growth in memberships, ski league and ski programs.
As usual, all of these successes arise from the numerous volunteers who have helped with all aspect of the club operations from coaching, to Ticket Office duties , to trail grooming,  to assisting with the races and special events.  A big thank you to all the club members who helped out in some capacity over the ski season.
Some items that will be happening over the summer include the completion of the trail bridge replacement on BCIT, and the development of a new trail to connect Beaver Lake to BCIT.
A reminder that the AGM will be held on April 17th, 7PM at the Lodge.  Please come and voice your opinion and stay involved in the future of the club. Enjoy the last couple of days of groomed ski trails and have a great spring/summer/fall.
Dave Kaegi
Dog Loop Update
The 2012-2013 Nordic ski season has been wonderful. Because of consistent trail maintenance and quality grooming the dog loop is still in great shape.
92 dogs and 153 skiers were registered this season to use the dog loop. New this year were the hitching post and informational sign. Kevin Bollefer constructed a sturdy, functional anchor that decreased the number of uncontrolled dogs at a busy trail intersection. The sign provided details about the dog loop for members and visiting skiers.
The diligence of my fellow Doggers to keep the trails free of dog poo is commendable. Each year the number of dogs has increased yet the dog loop is still a gem. Thank you for respecting Mt. Macpherson and your fellow RNSC members.
Next season's goals are encouraging the use of trowels instead of plastic bags and emphasizing Dogger etiquette.
As always I welcome any comments and will do my best to resolve any problems.
Until next season,
Paula
Tech BC Midgets
Revelstoke Nordic Ski Club showcased Revelstoke's skiing talent, organizational skills, and trails this weekend in high fashion. Skiers from Smithers to Vancouver Island competed in the Teck Midget Cross Country Ski Championships.  The 182 athletes, including 23 Revelstoke skiers, were thoroughly entertained and exhausted during the two days of races that took place this past weekend.
2.5 km Interval Start, Classic Race, Saturday- The weekend of racing started out with a lung busting 2.5 km interval start, classic technique race. Coaches were impressed with the fact that the course had a bit of everything- a long climb off the start, a harrowing descent, nice straight stretches, and what is a race without a heartbreaking uphill to the finish?Revelstoke highlights included a half dozen skiers competing in their first ever official race, and 4th place finishes from Nelson Luxmoore and Jaclyn Elliott.
4 x 1.5 Classic/Free technique Relay, Saturday- this event was a crowd pleaser, as groups of four skiers, doing two legs of classic, and two legs of free technique battled it out on Saturday afternoon. The sound was deafening as the first skier for Revelstoke, Alana Brittin came into the transition area to give Kate Granstrom a twelve second lead over the Hollyburn Nordic (Vancouver) team.  Granstrom took the lead and added to it, as did her twin sister Beth Granstrom.  Elizabeth Elliott had the trail to herself as she crossed the finish line to the jumping on their feet, cheering audience.  The Revelstoke win over Hollyburn ended up being almost a minute, and one of sweet victory.
300 metre free technique sprint, Sunday- While the sun was a welcome addition to the Teck Midget Championships this weekend, the warmer weather made for difficult conditions on the sprint course. Soft snow and a nail biting downhill hairpin corner were a challenge to most skiers on Sunday.  Elizabeth Elliott's 3rd place and Alana Brittin's 4th place were outstanding highlights for the Revelstoke Nordic Ski team.
In the aggregate points race for the weekend, Revelstoke Nordic Ski Team finished with a terrific 3rd place out of the 19 teams in attendance. Chief of Race and Revelstoke Nordic Ski Club President Dave Kaegi commented, "this weekend exceeded our expectations.  I was absolutely thrilled with the ability of our club to host a major provincial level event, the ability of our facilities to withstand the presence of 500 athletes, parents, coaches, and the efforts of our volunteers, numbering 80 each day- none of this could have happened without having such an incredible and outstanding volunteer base."
Abigail May, Larch Hills Nordic Ski Team coach raved, "I think that Revelstoke pulled out all the stops to put on an amazing event. They flawlessly overcame the adversity of the rain. The course was in fantastic shape, and made for really fantastic skiing. The club volunteers were really friendly and welcoming.  The volunteers clearly put in a great effort and should receive a big thank you from skiers from across the province."
RESULT HIGHLIGHTS:
2.5 KM Classic Ski, Interval Start (Saturday) 2003 Girls
1st– Sophia Van Varseveld (Larch Hills, Salmon Arm)
2nd –Claire Van Bergeyk (Larch Hills)
3rd –Elle Johnston (Whistler Nordic)
4th Jaclyn Elliott (Revelstoke)
5th Lindsay Worrell (Methow Valley, Washington State)
6th Emily McCloud (Revelstoke)
8th Devyn Gale (Revelstoke)
9th Zoe Larson (Revelstoke)
10th Arianna Morrone (Revelstoke)
2.5 KM Classic Ski, Interval Start (Saturday) 2003 Boys
1st– Trond May (Larch Hills, Salmon Arm)
2nd– Damian Georgyev (Caledonia, Prince George)
3rd– Ian Mayer (Telemark, Kelowna)
4th Nelson Luxmoore (Revelstoke)
5th Carson Damery (Strathcona, Vancouver Island)
2.5 KM Classic Ski, Interfal Start (Saturday) 2000 Girls
6th Alana Brittin (Revelstoke)
7th Kate Granstrom (Revelstoke)
Classic and Free Technique RELAY (4×1.5 km) (Saturday) GIRLS
1st Revelstoke Nordic- Alana Brittin, Kate Granstrom, Beth Granstrom, Elizabeth Elliott
2nd Hollyburn (Vancouver)
3rd Sovereign Lake (Vernon)
4th Kimberley Nordic
5th Larch Hills
Sunday, 300 metre free technique sprint, girls 2003 birth year
1st Elle Johnston, Whistler
2nd Lindsay Worrell, Methow Valley
3rd Sophie Van Varseveld, Larch Hills
4th Claire Van Bergerk, Larch Hills
5th Emily McCloud, Revelstoke
7th Jaclyn Elliott, Revelstoke
8th Devyn Gale, Revelstoke
Sunday, 300 metre free technique sprint, boys 2003
9th Nelson Luxmoore, Revelstoke
Sunday, 300 metre free technique sprint, girls 2000 birth year
1st Maxine Forder, Hollyburn
2nd Benita Peiffer, Whistler
3rd Elizabeth Elliott, Revelstoke
4th Alana Brittin, Revelstoke
5th Sydney Embleton, Sovereign (Kelowna)
Aggregate Team Winners (overall team points for the weekend)
1st Larch Hills (Salmon Arm)
2nd Strathcona (Mt. Washington)
3rd Revelstoke Nordic 
4th Telemark
5th Whistler
In addition to racing, athletes reveled in the other events of the weekend: a banquet at the community centre that included esteemed guests such as Mayor David Raven and three Olympic cross country skiing athletes- Chris Jefferies, Stefan Kuhn, and Drew Goldsack.  Mayor Raven's brief history lesson on the history of skiing in Revelstoke impressed the dinner guests and helped explain why we have such a strong cross country ski community to this day. The Olympians inspired and impressed the young athletes with their stories of the challenges of their paths to the national team. Of course a flash mob, dance contest, and a myriad of draw prizes also made many a happy skier this weekend.
Revelstoke Coach Matt Smider was thrilled with how the weekend unfolded:  "What an impressive showing from our athletes at the premiere event for their age group. This was a highly competitive weekend with 182 athletes  across four age groups. Some of our skiers competed against competitors that they had never competed against before. Often times we think of home court advantage, but this weekend there was actually an added pressure of competing at home. Our skiers did admirably, achieving results beyond what they thought possible. The Teck Midget Championships was the culminating event to a very successful season and the whole community should be thrilled with how our skiers and volunteers performed."
Special Awards and Results:
Heart Award- to the boy and girl who showed the most heart by overcoming adversity, in Saturday's races.  Elizabeth MacDowell of Revelstoke was the girl's winner. Elizabeth, one of the youngest racers competing this weekend, overcame her extreme case of nerves to compete, allowing her team to finish the 4 x 1.5 km skate skiing and classic relay. The boy winner was Marek Van Bylandt of Hollyburn Nordic Ski Club (Vancouver) who skied to a strong finish, even with a broken ski boot.
Classic Skiing Technique Awards (best technique in today's races)- Arianna Morrone (Revelstoke), Johan Henckel (Strathcona), Sophie LaChapelle (Telemark), and Novie McCabe (Methow Valley). This was Arianna's first ever race, and it certainly bodes well for her future athletic career to be singled out by the technique judges.