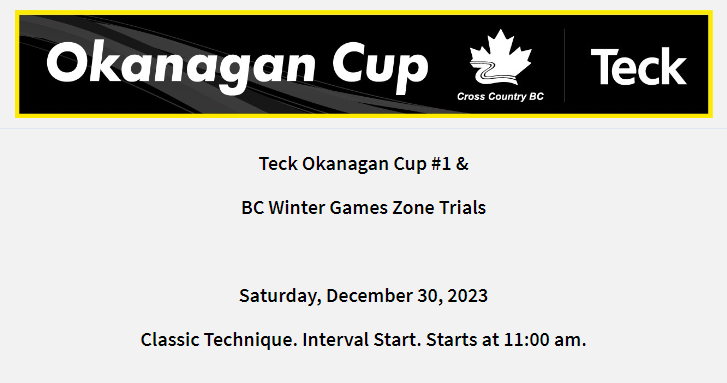 Location:  Mt. Macpherson Ski Trails, Revelstoke, BC
Host Club:  Revelstoke Nordic Ski Club
Date:  Saturday December 30th, 2023
Format/Technique:   Individual Start Classic Technique
Race

 

Notice

:
 2023 Teck OK Cup 1 Race Notice
Technical Guidelines: see CCBC Technical Guidelines
Registration:
 Zone4
Registration Deadline:
Tuesday, December 27, 2023 at 11:00 PM
Race Day Free Shuttle: Shuttle Schedule
A Letter from the Chief of Competition:
Greetings Athletes, Coaches and Parents,
We're looking forward to seeing you here in Revelstoke on Saturday, Dec 30th 2023.

Race parking is limited and teams will be allocated parking passes to be picked up at the Race Office Friday Dec 29 or Saturday Dec 30.  There will be limited first come, first served parking.
Pre-ski
The race courses will be marked and open for inspection by noon on Friday December 29th.

The course will close to all skiers 15 minutes prior to the start of racing.



Families visiting are welcome to ski but require day passes to be purchased. The pass for a racer is included in race fee.
Please stay current with the local forecast and highway conditions.  Plan your travel accordingly
https://www.theweathernetwork.com/ca/alerts/high-alert/british-columbia/revelstoke
https://www.drivebc.ca/
Race Day
Bib pickup will be available at the groomer shed between 8:00 and 10:30 on Saturday
Please give yourself plenty of time to arrive at the venue. Race parking is limited to those with designated passes. There is a drop off loop near the lodge, and public and race specific shuttle buses will be running for transport. Our facility is likely to be popular as well on race day with non-race visitors enjoying our trails and accessing the backcountry. Shuttle Schedule

Race maps will be available on the club website – https://www.revelstokenordic.org/race-maps/

No wax testing allowed on the course during the competition. 

Wax testing areas will be accessed via the upper stadium trail.

Awards 

will be presented throughout the day, times will be announced and posted on the 

coaches WhatsApp chat.



Start Lists
Information forthcoming
Food & Fundraising (CASH ONLY)
TBD for sale for lunch on Saturday
Baked goods for sale (fundraiser for Nationals bound athletes)
50/50 draw $2 per ticket (fundraiser for Nationals bound athletes)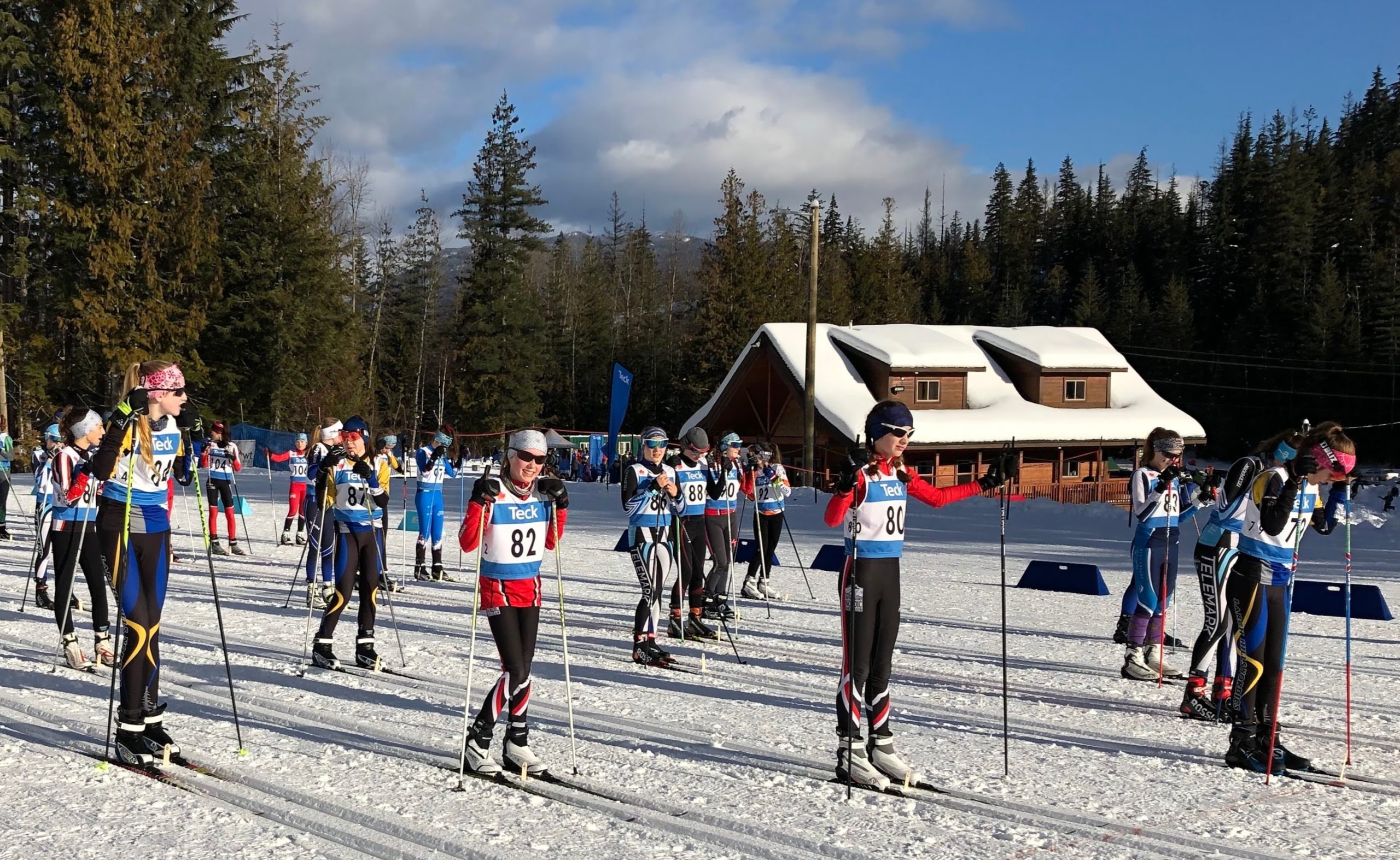 Questions?
competition@revelstokenordic.org
racesecretary@revelstokenordic.org
Parking & Shuttle:
PLEASE READ CAREFULLY
We strongly recommend that race participants and families take the shuttle bus. There will be limited parking at the venue. Parking on the Highway 23s is not permitted, and there is no other parking close to the venue.
We are providing a FREE robust shuttle service for the two day BC Cup Race.  Please do not get on the Ski Hill Resort shuttle in error. There will be limited first come, first served parking.
Two Shuttle Pick-up Locations:
Ed's Gas Club, 753 Nakusp Mica Creek Hwy, Revelstoke, BC V0E 2S0 on the route to Revelstoke Nordic Ski Club.
Parking for Coaches, Waxers and Race Volunteers:
Each club will be provided with a limited number of parking passes, proportional to the number of registrants per club. The maximum number of passes per club will be 5. Parking passes must be picked up at the Race Office on the official training day, Friday Dec 29. More information to follow.