Thanks to grants and donations, the Revelstoke Nordic Ski Club has amassed a large "tool box" over the years to work with the ever changing snow conditions in our area. We are fortunate to have an amazing crew of volunteers come and groom our trails. Drawing on their years of experience, and the direction of our Operations Manager, these volunteers are able to pick the right "tool" for the conditions so we have great skiing from early season to well into the spring. But what are these tools? Read on to learn more about the machinery we use.
The Drag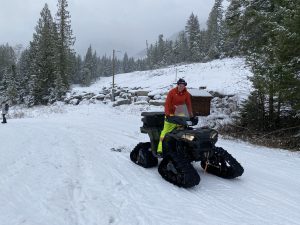 This is used early season when the snow is very thin to smooth it out. We also put it on the back of the snowmobile or quad when we need to go out on the trails so we don't leave a machine track.
The Roller

The roller (also called packer) is an attachment for the snowmobile or quad. We use this early season to pack down snow. This is important to create a good solid base that will work for us all the way through to the spring months. There is a smoothing panel after the roller that leaves the trail looking slightly groomed.
The Ginzu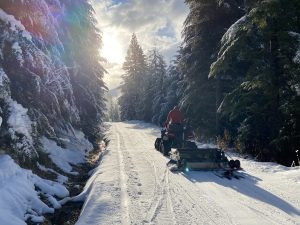 The Ginzu is also an attachment. We use this to groom when there is not enough snow to bring out the large groomer, the snow is wet and getting caught up in the big groomer, or if the snow just needs a quick touch up. We can hook it up to the quad or snowmobile and attach the track set to it if we want to groom for classic.
Fun tidbit: The Ginzu is so named because the inventor (Dave from Yellowstone Track) noticed sharp Ginzu knives being advertized at the time and thought the blades of the groomer were just as sharp!
The Big Groomer – A.K.A. The Cat

Our big grooming machine, also called the "cat" is the main powerhouse of our grooming. As it moves on a tread and is very heavy, it needs a good solid base of snow on the trails before it can get out and about – otherwise rocks and dirt will damage the tread. Sometimes our temperatures hover near zero degrees which can mean the snow is too soft to use the big groomer. If we did it would just create lots of mess!
The benefit of the big groomer is that it creates a wide path of grooming, meaning we don't have to go over an area multiple times. Due to its weight, it is also very good at smoothing out snow, even if it is icy.