Thank you to all who made the 2022-23 season so much fun and eventful! The creative minds are at work to make 2023-24 even better. Check back in here in the fall to see what is going on.

Here at the RNSC we love getting together and having a great time on skis! We are more than just a place to visit, we are a vibrant community that is keen to welcome more people into our fold. We host course/social programming/events for all ages and types. Check out below for what is going on this season and then join us to learn, laugh and find some new friends. You can also find all events and programming on our website calendar.
If you are keen to volunteer for any of the events/programming please e-mail [email protected].
If you are looking for loppets and/or races check out CCBC's schedule page.
Courses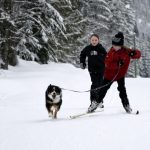 January 8th – 9:30-10:30am & January 13th –  3:00-4:00pm
Free Dog Training!
Learn how to ski with a dog. You must be an RNSC member and must register as we have a maximum number of dogs per course.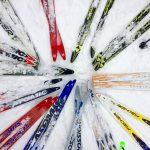 Adult Group Lessons Starting Jan 10th
6 sessions for $90 – maximum 6 people per group
A group for each level and type of skiing. More information and registration.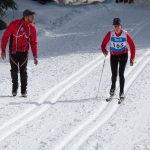 Community Coaching Course Feb 3rd -5th
Interested in becoming a coach or instructor of wee ones to adults? The RNSC is keen to develop interest into reality. Contact [email protected]  to join this beginner course on instruction.
The RNSC supports participants financially to take the course.
Social Groups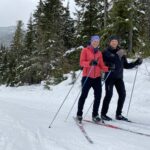 Mondays Parent and Tot Meetups – 10:00am-11:30am
This social group is for parents to have a meeting place outside the home, meet other new parents, and perhaps get out for a ski. Bring yourself, your wee one, their bag of "tricks" and your skis. The idea is as a group parents will take turns skiing and/or looking after the kids.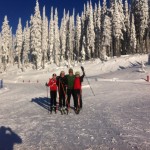 Tuesdays ACC Meetups – 7:00pm
The Alpine Club of Canada is hosting a leisure group meetup. Anyone welcome but ACC membership encouraged! Details of ski plan posted on the ACC Columbia Mountains Facebook Group on Mon/Tues, includes headlamp requirement and if route is dog friendly. It's a social event that is beginner friendly, so not always moving super quickly. Mostly classic skiers, but skaters welcome. Meets outside the lodge by the ski rack.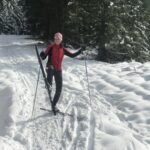 Wednesdays Masters Training Group – 5:30pm
This energetic group of masters meets weekly for a 1 hour session with a focus on training and higher intensity intervals – rather than skill development. All enthusiasts of intermediate/advanced skill are welcome to join this motivating crew. A training schedule is prepared weekly and drives the direction of the group. Currently skate skiing is the majority but a crew of classicers could organize themselves into an accompanying group. The group meets at 5:30pm in front of the lodge ready to start the warm-up.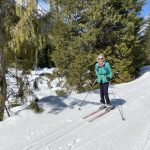 Thursday March 2nd last meeting this season – Ski & Tea – 1:00pm
This group is for meeting up with other leisure skiers and enjoying some company. The group will meet outside the lodge where a keen leader will help sort folks into ski groups. After a ski, participants are encouraged to hang out in the lodge, have a cup of tea and enjoy a bite of a baked good.
Events
MARCH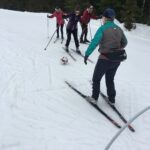 March 12th – Poker Ski – 9:00am – 2:00pm
The Poker Ski is back again this year! Stay tuned for the theme – coming soon! The Poker Ski is a go-at-your-own-pace tour through the ski trails to the 7 stations. Great fun for a group! At each station their is an "event" to participate in (last year's soccer station is our picture to the left). Take a picture of yourself at each station and bring the photos back to the lodge to receive a playing/photo. At 2:30pm cash (adult) & candy (youth) prizes are awarded to the best 3 poker hands. Cost: $10/adult , free for youth
FEBRUARY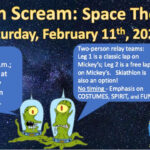 February 11th – 9:30am onwards
This family friendly free fun race is for all RNSC members and non-members (need day trail ticket) to enjoy.
Registration is from 9:30-10:00 at the lodge. Racing starts at 10:00am. Wee ones, team relays, costumes – so fun! Details here.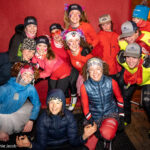 February 15th – Headlamp Heroes – 5:30pm onwards
Late Date Valentine! Ski with a long time friend or find a new one at the event. Two courses to choose from Heart's Desire: 7km (Black & red on map) or Heart's Content: 3.5km (Black only). Course map.
$2/entry – Prizes to win – Costumes encouraged! Registration 5:30 – 6pm – event start 6:30pm. Further details.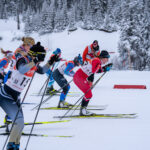 February 17, 18 & 19th – BC Cup #2
Join in or cheer on local and BC talent! You must be a member of a Canadian Nordic Club and register to participate. Feb 17 – warm up day, racers with be checking things out – all trails will be open. Feb 18 & 19 racing taking place – most trails will be open for members and guests to ski & access to the Fingers and snowshoeing still available. It will be busy around the stadium, lodge and parking lot. Consider taking the free shuttle or carpooling to help with congestion. Full race notice  and Race Maps.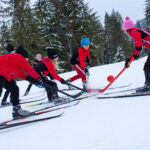 February 25  – Mini Olympics
Our Skill Development Program will be dividing up into teams representing countries from around the world. Testing out their skills through various stations teams will show off what they have learned this season, cheer on the competition and have lots of fun doing it. Cheer them on as you ski by through the stadium, and Little Dippet Flats.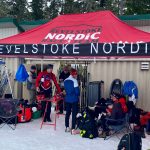 February 25 – Waxing Fundraiser 9am -1pm
Come and get your skinny skis (including fish scales) professionally hot waxed! $20 for a hot wax, and $30 for clean and wax (classic). Your skis need some hot love to make them faster AND extend their life! Please pay by cash or e-transfer.
Proceeds go to support our eight high school skiers competing at Nationals in Thunder Bay.
JANUARY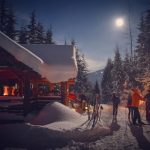 Jan 1st – Lantern Ski
A magical evening of skiing by lantern with warm drinks and treats, a fire to warm yourself up by and socialize and fun. Free for members, visitors must purchase a day ticket.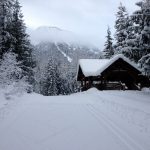 January 16th – New to the Club Meetup! – 7:00pm

Are you new to the club and looking to meet some fellow skiers? Perhaps have someone to ask some trail questions to? Join us at 7pm for a meet and greet easy ski from where you may find your next ski partner. All abilities welcome, the focus is on social and from there you can plan your next adventures.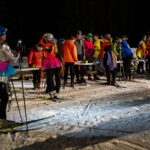 January 25th – Headlamp Heroes – 5:30pm onwards
Scrabble Scramble! Collect a letter each time you complete a lap. Which team can create the highest value word?
$2/entry – Prizes to win – Costumes encouraged! Registration 5:30 – 6pm – event start 6:30pm
DECEMBER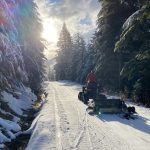 Dec 14th – Free Day! 1pm -8pm

Curious about cross-country skiing? Or perhaps you have a friend you would like to try it out? Join us from 1pm – 8pm for free day tickets and $5 rentals (youth free).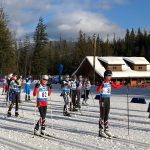 Dec 17th – TECK Okanagan Cup Race
This is a one day race: Zone4 Registration & Race information sheet. Fun for all ages!
Upstairs lodge and washrooms will be closed to the public till late afternoon. Port-a-potties are on site for washroom use. Members/guests not racing can still ski, a designated access route will be obvious. Parking attendants will help coordinate the parking.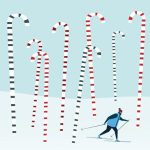 Dec 21st – Candy Cane Relay – Headlamp Heroes Series – Race #1
Registration is from 5:30 to 6:00 p.m. Events start at 6:30 p.m. Cost is a twoonie ($2).
Teams of two so bring a friend. Wear a festive costume! HO! HO! HO! In the Snow, Snow, Snow! Food donations for Food Bank are welcome. Course is 3 km of lit trails. Prizes to follow event. Sponsored by MICA Heliskiing