PRESIDENTS REPORT
The Club still does not have a President. This is an important position that needs to be filled. The President provides the leadership for the club and the Executive. It is well supported by the new Club Manager. If you are interested please contact any member of the Executive. We need you!
---
TRAIL LIGHTS ARE HERE!
By the time the snow flies, the RNSC will have 6 kilometers of new trail lighting for night skiing. Thanks to the generous donation of the Columbia Basin Trust ($75,000), CSRD Area B Economic Opportunity Fund ($75,000), and the City of Revelstoke's Tourism Infrastructure Fund ($70,000) Nordic skiers will be able to "ski under the lights" this winter. The trail lights have been installed on the following trails: Sprint loop, Terrain Park, Main Loop up to Mickey Olson Trail turn off, Mickey Olson Trail, Evelyns Choice, Titan and Dynamite Trails. The lights are activated by a solar solenoid as it begins to get dark in the evening, and turn off by a pre-set timer (either 9:30 or 10:00 PM). Now you will have no excuse not to get out on your skies for some great exercise.
---
 Membership Night
Members Night will be Monday, November 3rd from 5 to 8pm at the day lodge. Membership Night is the only night Zone4 online registration fees will be waived.  Members must be present to electronically sign the waiver. We will be accepting cash or cheque only. Memberships may also be purchased on zone4 at any time. Processing fees are $2 fee for the 1st person and $1 for each additional person plus 3% for paying by Credit Card. Again, these fees will be waived at members night.
There will also be a small gear swap. If you have gear to sell, contact coach Matt Smider at [email protected] for more information.
You will also have the opportunity to support our ski league program by purchasing Coopers Cards. Natalie MacLeod is our new Coopers Card coordinator.  Members will be able to purchase the gift cards from the Club Manager during office hours at the lodge throughout the season.' Please come out and purchase your membership, chat with other members and learn a bit about the upcoming season
CLUB MEMBERSHIP FEES
Dog loop
Once again we can look forward to spending time Nordic skiing with our dogs in a mountain setting. The RNSC dog loop will be the same configuration as last season. The loop is approximately five kilometers and contains two connector trails to vary your enjoyment. The trailhead is located immediately to the right as you enter the parking lot.
This season the club will be replacing temporary signs with more permanent metal signs to identify designated "dog" and " no dog" trails. A few other dog loop signs will now be mounted on the permanent posts. Less time will now be required to set up the loop each season and the groomers will not have to climb out of the groomer to move and replace the signs. A couple of temporary signs will still be needed and if you see one buried in the new fallen snow please reposition it.
Registering to ski with your dog on the loop is easy. Go to zone4.ca or sign up during membership night (November 3rd 5-8 PM) . Just read and sign the dog loop agreement and provide your dog's name and description, and then complete the membership form. Your card will be available at the club lodge. No separate card will be given for your dog. There is no additional fee for your dog.
Thank you for your efforts to make this loop poo-free and enjoyable for all club members.
A special thank you to our club members who volunteered their time to brush the Nordic trails. This allows grooming earlier and later in the season and increases our ski season.
Feel free to contact me throughout the season.
Paula Hill, [email protected]
---
Seven Bridges Snowshoe Trail
For the second year, an approximately four kilometer snowshoe trail will be available at Macpherson. RNSC has marked and mapped a loop trail that begins and ends near the lodge. You can start at the Stimulus Mountain bike trailhead located at the far right corner of the parking lot across from the lodge or walk past the lodge down Mickey's. The Seven Bridges snowshoe trailhead will be on your right. This section is also part of the Stimulus Mountain bike trail.
Permanent signs now mark the trail heads and intersections and yellow diamonds on trees mark the trail. Recent brushing has been done in the section above Evelyn's. In areas without trees ( for example cut blocks) bamboo wands and orange flagging tape will be used.
Season and day pass holders are not required to pay an additional fee. Others are asked to pay a parking lot fee at the lodge.
Please follow the trail and avoid walking on groomed ski trails. All snowshoe trails are dog friendly at Macpherson.
Special thanks to Keith Mcnab for all his efforts on the snowshoe trail.
Paula Hill
---
Teck BC Cup #2 – January 24-25 –  Volunteers Needed!
The Revelstoke Nordic Ski Club (RNSC) is hosting the Tech BC Cup #2 on January 24th and 25th.
This is a two day race for athletes of all ages. The Saturday is a classic interval start race and the Sunday a mass start freestyle event. This is a big race for our club. We are anticipating approximately 400 racers! To ensure a successful race we will need many volunteers for timing, first aid, course marshaling, concession and parking. Volunteer needs will be between 7:00am and 2:00pm depending on the job. No experience needed! If you would like to volunteer to help make this race a success please contact Penny at 250-837-3497 or [email protected].
---
Buy and Sell
The nordic website now has a buy and sell feature.
If you would like to sell a Nordic item, this is the place.
Please send an email to [email protected] or [email protected] with the details of your item.
Please include
A picture of the item
A brief description including age, condition, colour and complete model name
The asking price
Your preferred contact information (this will be posted)
---
Skill Development Programs
Throughout the summer, our Race Team athletes (TA and JD skiers) were offered two weekly sessions coordinated by Coach Matt and guest coach Matti Little. In addition, Clare Peacock, Brittany Evans, Megan Evans, Bruce Granstrom and Rory Luxmoore were instrumental in providing coaching support throughout the summer months. Once September rolled around, we ramped up to three and four weekly sessions for TA and JD, respectively. Dryland training consists of a variety of activities: ski striding (with poles), roller skiing, running, biking, hiking, swimming,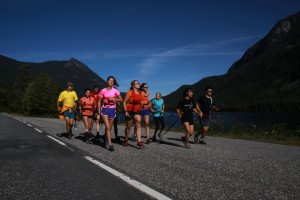 strength circuits and an abundance of games to throw into the mix. Thus far, we have had skiers attend a Talent Squad in 100 Mile House and a Regional Dryland Camp in Vernon. Our skiers are now looking forward to the Talent Squad and the Regional On-Snow Camps, both at Sovereign Lake/Silver Star in November. By the first weekend of December, we'll be attending our first races of the 2014-15 ski season! Clare, Rory and Bruce are continuing their superb coaching support throughout the fall, plus we have added the help of guest coaches Hanna Thomson and Nikki Norrie during our roller skiing sessions. In addition to our stellar coaches, we should thank all the volunteers for the various efforts; from coordinating Coopers Cards and ordering clothing to making food for fundraisers and counting bottles.
Our Bunnies and Rabbits are looking forward to another year on snow. We are pleased to announce that the Rabbits coaches will be holding an additional Tuesday session for those looking to get out on snow more often! Anyone interested in helping to coach our Bunnies and Rabbits programs should contact [email protected].
---
 Coaches Training
As coaches, it is important that we take time to develop our skills to meet the changing needs of our athletes. At the start of October, eight new coaches took the Community Coaching Introduction (ICC) course. The follow-up Community Coaching (CC) workshop will also be offered locally on December 12th – 14th. Bruce and Rory are pursuing their next level of certification, Competitive Coaching Introduction (Training to Train). Coach Matt has completed his Learning Facilitator training for the ICC and CC courses and is also pursuing his next level of certification, Competitive Coaching Development (Learning to Compete). The RNSC is committed to supporting coaches interested in furthering their training. Please do not hesitate to contact [email protected] if you would like to get involved. We are always looking for new coaches!
---
Ski Skool

Our Ski Skool program will be up and running again in an expanded format. In addition to the Grade 4 program, we will also be bringing high school-aged skiers to the Nordic trails – look out! If you are interested in instructing our Ski Skool programs and have weekday daytime availability during the ski season, please contact [email protected].
---
Masters Skiing
This is a call to all adults who are interested in improving their technique, fitness or both. For those interested in Masters racing, this is a great season to get involved. In addition to the BC Cup we are hosting in January, the Canadian Masters Championships will be held in Kamloops from February 9th – 15th, 2015. Regardless of your Nordic aspirations, here's how you can get involved (please see "Programs" for pricing details):
1)   Beginner Technique Sessions on Monday evenings (7-8:30). Classic: January 5th, 12th, 19th, 26th. Skate: February 2nd, 9th, 16th, 23rd.
2)   Intermediate and Advanced Technique Sessions either Tuesday evenings or Thursday evenings. 10 weeks alternating between classic and skate beginning week of January 5th.
3)   Open Training on Wednesday evenings beginning December 3rd.
For those who cannot commit to full session dates, you may be interested in the One Day Ski Clinic on Sunday, January 11th. Private, semi-private and group lessons can also be arranged. Finally, individualized training plans are available for those interested in focusing their training efforts. Contact [email protected] for more information.
---
Headlamp Heroes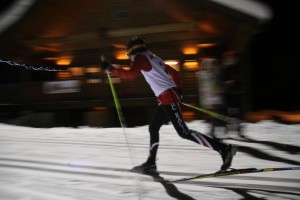 Our successful toonie race series is back for a second season and the name is staying the same (regardless of whether or not headlamps will be necessary)! These are fun, laid-back events designed to give individuals an opportunity to compete in a casual environment and win some sweet swag!
All events are held on Wednesdays beginning at 7pm (registration from 6-6:30). Here's the schedule:
December 10th – Classic Individual Start
January 7th – Skate Sprints
February 4th – Skate Mass Start
March 4th – Mixed Technique Relay
---
Please note: the membership list resets after the Membership night. Therefore, if you have not purchased your 2014/15 Nordic Membership on or before members night, you will not receive any more RNSC correspondences.
Start your snow dance!