President's Report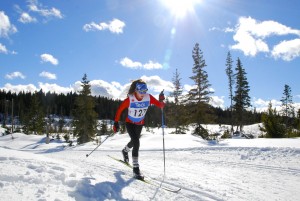 Welcome back to what will hopefully be another great Nordic ski season!  Many new and exciting changes have happened with the Club's services and facilities since the end of last ski season.  Please look inside this newsletter for more details.
As you know, with the exception of our club coach Matt Smider and our book keeper, all of the club's activities are run by volunteers.  This is what has made our club so successful over the years and also what creates the heart and soul of the club.  We are always in need of volunteers to fill the clubs many volunteer roles and responsibilities (coaching for the children's programs, ticket office duties, trail grooming, etc).  Please contact any one of the Club's Executive members to find a way you can volunteer.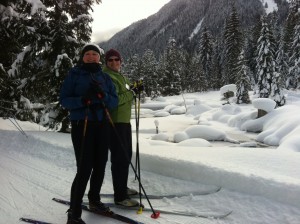 Remember that Members Night at the Lodge is Monday November 4th.  Please come out to meet your Club Executive as well as new and old members and to enjoy some friendly chats about Nordic skiing!
Don't forget to do your snow dance so we can get skiing!
Dave Kaegi, Club President
[symple_divider style="fadeout" margin_top="20px" margin_bottom="20px"]
Welcome back Nordic Norm!
Dear Nordic Norm
I was in the ski shop the other day checking out what's new for the 2014 season and came upon a pair of poles with a price tag over $400.00. What is going on here? Cross country skiing used to be an affordable family activity, but now prices are getting out of hand: don't you think? By the way, where have you been hiding for the past 10 years or so?
Signed: Getting shafted?!!
Dear Need to get a grip.
It is funny you should be asking about the cost of high performance equipment. I had a conversation with my two old friends this summer on their way back from the Finnish Festival on Sointula Island.  Janni and Pentti were through Revelstoke on their return trip to Thunder Bay to attend a master's dry land training camp at Lappe Nordic.
The conversation turned to the high cost of good equipment. Pentti was drifting off in the heat of the beautiful Revelstoke summers day and Janni was saying that he has never seen a ski shop owner yet who was driving around in a Ferrari. I then asked the simple question "What about poles"? Pentti returned to the conversation as he sat up in his chair and decreed that Poles were incredibly friendly people, despite the hardship endured after decades of Russian occupation. Janni, who is used to his best friends abstract conversational wondering simply agreed, but added Poles rarely moved over in races when you yell "track" but other than that were kind and generous souls. Straight answers are elusive after a glass of wine on a hot afternoon.
Here is my take on those fancy high priced poles. Honestly I would love to have a pair as they are super light and swing effortlessly, but having said that I do not own top of the line poles. Weight matters in elite athletics as it can carve seconds in a race. That is why World Cup skiers all have super light weight expensive poles (which by the way they don't pay for as sponsors give them to their athletes). In my case, skiing around the Mickey Olson trail as fast as I can is a long way away from the World Cup. So what I do is try to balance the performance versus cost equation and purchase something that is relatively light but doesn't require a mortgage to purchase. Since I am on the edge of being considered old, (I have stopped growing in height for a few decades or so) I no longer out-grow equipment. I look for something in the mid price range which is slightly heavier than expensive poles but not as heavy as the low cost item. I do insist on a cork grip as I find them way more comfortable than their plastic counterparts. I remember picking up a pair of Excel Galaxy poles on sale for just over 100 bucks, regular around 175. Expensive indeed, but still not the top of the line even in those days:  but they lasted 17 years (with a few grip changes as they wear out). The way I see it, I was skiing with good relatively light weight poles for around 7 bucks a season and for me that's good value for good performance, which is always what I am looking for. All that said, if you are just starting out or just ski a few times a year, then it may be difficult to justify even the mid priced ski pole.
Oh yes, where have I been? Skiing naturally!!
[symple_divider style="fadeout" margin_top="20px" margin_bottom="20px"]
Membership Night
Members Night will be Monday, November 4th from 5 to 8pm at the day lodge. This was incorrectly printed in the leisure guide for Nov 5th. Sorry about the confusion. Membership registration begins at 5pm, followed by a general club information session at 6pm.
Membership Night is the only night online Zone4 registration fees will be waived.  Members must be present to electronically sign the waiver. We will be accepting cash or cheque only.
There will be computer kiosks set up and assistance to help members sign up electronically.  Please come early to avoid long wait times.
Memberships may also be purchased on zone4 at any time.
[symple_divider style="fadeout" margin_top="20px" margin_bottom="20px"]
Coach's Update
Each passing week brings more anticipation and excitement for the coming ski season! Our Track Attack and Junior Development skiers were staying fit throughout the off-season, whether they were Nordic-specific training or competing in many of the great sports available to young Revelstokians.
During July and August, our training sessions ran Tuesday and Thursday afternoons. Thank you to former Revelstoke Nordic racer Brittany Evans, who provided her coaching expertise for the twice-weekly workouts. Coaches Bruce Granstrom and Rory Luxmoore continue to be paramount to the program's success, making themselves available to coach whenever called upon. Our fall program began in September and includes an additional Saturday session for all and Wednesday training for our older racers. Sessions are varied and include everything from trail runs up Mount Revelstoke to roller skis down Airport Way; Orienteering Races at Centennial Park to strength circuits at Mount Begbie Elementary. Please contact Coach Matt ([email protected]) if you are interested in training with our local Nordic juniors.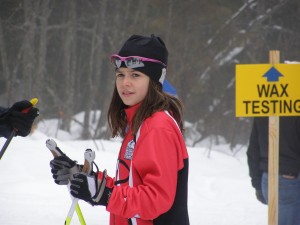 Last May, Alana Brittin and Elizabeth Elliot were named to the BC Talent Squad and participated at the Spring BC Team Camp in 100 Mile House – congratulations girls! September heralded training camp season and numerous Revelstoke skiers participated at training camps throughout BC. Four skiers attended the BC Talent Squad Camp in 100 Mile House; 12 skiers, plus parents, attended the Regional Dryland Camp in Salmon Arm; and four skiers attended the BC Development Squad Camp in Revelstoke. The opportunity to train with fellow skiers across the province provides a memorable experience and bodes well for our skier's success this coming season.
In November, our skiers will yet again participate in both the BC Talent and Development Squad On-Snow Camps (November 14th – 17th) and the Regional On-Snow Camp (November 20th – 22nd) at Sovereign Lake Nordic Ski Club in Vernon. Coach Matt has had the good fortune to work at all September camps and will be coaching at both On-Snow Camps in November. This has provided a unique opportunity to interact with other coaches and has offered a first-hand look at how Revelstoke racers stack up against skiers across the province.
Our Ski League program is currently in the planning stages as we prepare special events and ensure all coaches are certified and ready to immerse themselves in the Nordic ski world. Similar to last season, our Rabbits and Trailblazer programs will begin Saturday, December 7th from 10am – noon and continue for 14 more Saturdays until March 8th. Our Bunnies will hit the trail on Saturday, January 4th from 10am – noon and continue for 9 more Saturdays until March 8th.
For the 2013/14 ski season, Revelstoke Nordic is excited to offer Headlamp Heroes: Wednesday Night Race Series & Training Sessions. Races will be run on the following dates: December 18th, January 15th, February 5th and March 5th @ 7pm.
Headlamp Heroes is an opportunity for young and old, novice and expert skiers to participate in a fun, laid-back race environment. Entry fee is $2 for members OR $2 plus trail fee for non-members. Races will be both classic and free technique and formats will vary from race to race. Bring your headlamps and fastest Nordic gear. There will be draw prizes and overall season awards presented at our final event.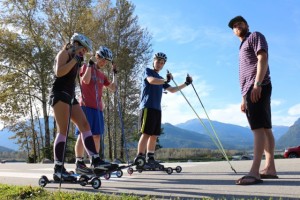 In addition to races, we will also be offering Headlamp Heroes: Wednesday Night Training Sessions. These sessions are free (plus trail fee for non-members) and will begin December 4th @ 7pm and continue all season on non-race Wednesday nights. Sessions will be akin to a 'group ride' with the focus on developing fitness and different workout options depending on the skier's training experience and objectives. Please contact Coach Matt ([email protected]) if you are interested in more information about Headlamp Heroes.
Finally, we are now offering an Adult Beginner course for 10 sessions beginning Saturday, January 4th from 10am – noon. This program will focus on the basics of Nordic technique and developing confidence on skis. Additionally, we are continuing to offer our popular Adult Intermediate and Advanced course. This course emphasis technique development and will be run at the same dates and times as last season: Tuesdays, 7 – 8:30pm and Thursdays 12:30 – 2:00pm.
Check out our complete list of programs for the coming season.
Thanks for reading and good luck with your respective snow dances!
[symple_divider style="fadeout" margin_top="20px" margin_bottom="20px"]
Ski Skool needs instructors!
Our Ski Skool program extends Nordic ski instruction to the 4th graders of Revelstoke. We are in need of volunteer instructors to help coach these young skiers. Previous instructional experience or qualifications are not necessary. We are simply looking  for individuals who are comfortable on Nordic skis and have a knack for working with energetic youngsters.
Exact dates & times are TBD. Expected dates are Tuesdays, Wednesdays and Thursdays in January from 8:30 – 11:30am. Ideally, volunteers will assist with all four sessions of a particular weekday.
Please contact Coach Matt ([email protected]) if you are interested in instructing.
[symple_divider style="fadeout" margin_top="20px" margin_bottom="20px"]
Introductory Community Coaching Workshop: November 1st & 2nd
CCBC has generously obliged our request for an Introduction to Community Coaching Workshop in Revelstoke, November 1st & 2nd. Introductory Community Coaching is the first level of coaching courses and is a CCC/CCBC minimum requirement for anyone interested in coaching our Ski League programs.
"The "ICC" program is intended to provide parents and other novice coaches with basic information and a feeling of confidence as they begin their role as a coach. It is entry level, and there are no prerequisites except enthusiasm and the minimum age requirement of 14 years." (From CCBC).
Friday, November 1st: 5:00 – 9:00pm
Saturday, November 2nd: 8:30am – 5:00pm
@ Macpherson Nordic Lodge
Cost for the course is $65 for CCBC members, $80 for non-members. Revelstoke Nordic will cover the cost of the course for anyone interested in providing coaching services to the club.
Please let Coach Matt ([email protected]) know if you are available for the course no later than Monday, October 28th.
[symple_divider style="fadeout" margin_top="20px" margin_bottom="20px"]
Tech Okanagan Cup, BC Winter Games Time Trial
We are hosting a Tech Okanagan Cup and BC Winter Games time trial on December 29th.  We will need many volunteers for timing, concession and course marshaling to ensure a successful day.  If you would like to volunteer, please contact Penny at [email protected].
[symple_divider style="fadeout" margin_top="20px" margin_bottom="20px"]
Hello Fellow Doggers
The RNSC Dog Loop will be better than ever this year. Review the latest trail improvements described in this month's newsletter.  One of the goals this season is to decrease the use of plastic bags. More trowels posts will make cleaning up after your dog easier. Don't forget to register your dog and include a description when filling out your membership information. Please continue your great stewardship of our special dog ski area. Please volunteer for club activities, whether lodge duty selling day passes or parking cars for the Lantern ski.
As always your comments are welcome.
[symple_divider style="fadeout" margin_top="20px" margin_bottom="20px"]
Snowshoeing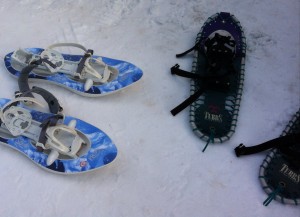 Snowshoeing increases in popularity every year and RNSC has enthusiastically responded.  New this season will be a marked snowshoe trail. Stimulus, a popular green mountain bike trail, will be modified for use by snowshoers. It is a loop trail accessible near the stadium/ lodge area. Those without an annual RNSC pass will pay a five dollar parking fee per vehicle, or a $20 annual parking fee. As with mountain bike trails, this snowshoe trail will be dog friendly. Snowshoers are expected to stay off the groomed ski trails and to minimize damage at trail intersections.
[symple_divider style="fadeout" margin_top="20px" margin_bottom="20px"]
We need a Ticket Volunteer Organizer!
One major source of revenue for the club is the parking fees and day passes we sell to non-members. These day pass fees covered the cost of all of our groomer fuel for the 2012/13 season.
We are in need of a volunteer to coordinate the staffing of the day lodge to collect day fees for the upcoming season. This involves contacting members and organizing a calendar to maintain coverage. Please let us know if this is a responsibility you are interested in. The Nordic Club relies on this source of revenue to provide the services we do.
If we are unable to fill this position with a volunteer, we may need to hire a person which will significantly cut into the funds we collect.
We would like to offer a huge thank you to Nadine Smith who has worked hard to staff the office for the past two seasons.
[symple_divider style="fadeout" margin_top="20px" margin_bottom="20px"]
Trail Work – Name that Trail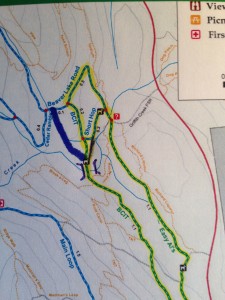 In response to member requests the club has built a new trail! The change will make grooming easier and provide a wider, less steep connection between BCIT and Beaver Lake Road for non-Doggers. In addition, the new configuration will reduce potential collisions that steep hills with blind corners can cause.
This season the doggers will continue northwest on Easy Al's or BCIT to reach Beaver Lake Road. This adds an additional .6 kilometres to the dog loop. Doggers are not permitted past the intersection of Beaver Lake Road and BCIT.
The short, steep west end of Short Hop has been replaced by a more gradual trail. Dogs are still permitted on this trail.
Members desiring a less steep trail without dogs can ski the new section of trail directly to Beaver Lake Road and Cedar Ramble.
[symple_spacing size="20px"]
We need to name the new trail!
If you have a good trail name, please email it to
[email protected]
before Members Night. We will choose the best name and announce it shortly after Members Night.
[symple_spacing size="20px"]
Other trail news includes a new bridge installation on BCIT and an expansion of the parking lot. We would like to offer a huge thank you to Speers construction for the generous donation of equipment time. A large quantity of fill was trucked in to build the lot out to the south, between the groomer shop and the highway.  The parking lot should be able to accommodate about 30 more vehicles. This will drastically improve our busy parking lot hours.
[symple_divider style="fadeout" margin_top="20px" margin_bottom="20px"]
Communications
Check out our new website! You are probably on it already! The
Calendar
includes important dates and times for events and programs. Posts are multiplying by the day!
Facebook
is another great place to share info an pictures with other members on trail conditions or events. Like us on Facebook and we'll share with the community.
Please remember that Members Night on November 4th is the cut off date for receiving Nordic Information based on last years Membership list. If you do not purchase your 2013/14 membership on or before Members Night, you will not receive any more Nordic information until you do purchase your membership.
[symple_divider style="fadeout" margin_top="20px" margin_bottom="20px"]
The Revelstoke Nordic Ski Club keeps first aid kits at the Revelstoke Nordic Day Lodge, Ole Sandberg Cabin, and in the groomer. The following gear is also stored in the Maintenance Building:
Toboggan with toe bar
Snowmobile
Backboard, hard collars and spider straps
Card board and plywood splints
Blankets and tarp.
In addition, a rescue toboggan is stored at the Ole Sandburg Cabin on the deck. Inside the toboggan can be found a backboard, splits and blankets.
In Revelstoke: Revelstoke Search and Rescue maintains a toboggan and snowmobile with trained personal. They are reached through the RCMP or by calling 911. There is good cell phone coverage throughout the entire trail network. Some staff from the Forest District are familiar with the trails and are trained in basic first aid. They also have access to snowmobiles. They may be available to respond quickly during the mid-week. The office number is 837-7611.
Emergency Numbers
RCMP, Fire, or Ambulance…911
Revelstoke Nordic Lodge……250-814-4264
Hospital……………………………250-837-2131
A phone is available at the Revelstoke Nordic Day Lodge in the Ticket Office.
When communicating an emergency, note:
The nature of the emergency
How many people involved?
What happened?
Is there major trauma involved?
What is the chief complaint?
What are the signs and symptoms?
Who is the victim – name, gender, and approximate age –also contact name and phone number.
Where is the accident? (See map below)
When did the accident happen?
What are the current temperature and weather conditions?
What is needed for the rescue? (Does the victim have a back or neck injury that calls for the use of a back board? Is the victim having any respiratory and circulatory problems that call for the need of oxygen and immediate transport)
Your name and location.
If you have to leave the victim to get help, ensure they are positioned safely on the trail. Keep the victim warm from above and below through the use of extra clothing or padding.
If you are reporting a missing person, provide a name and a description of the person, travel plans, when and where last seen, experience level, type of ski equipment, and how prepared they may be.
This plan will be reviewed annually. It will be posted at Revelstoke Day Lodge Lodge, Maintenance Building, and Ole Sandberg Cabin. We will also publish it each season in the newsletter and will maintain a copy on the web site. Any comments to improve the plan can be directed to Dave Kaegi at 250-837-5784.
Plan last updated: December 2011