Thank you Dave Kaegi
Dave has been a dedicated RNSC President serving with fairness and a look to the future. He encouraged new direction while respecting club tradition. Thank you, Dave for your guidance and willingness to embrace a new group of trail users. Your energy is inspirational.
President's Report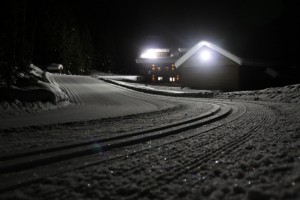 As I write this article, it is the end of the third week of March and it is still snowing. Wow! What a winter of excellent cross country skiing this has been. A huge hats off to all of the groomers; you tried to stay on top what at times felt like the never ending cycle of snow storms.
This is my last report as President. I came onto the Nordic Club Executive six years ago with a goal to help get the club's physical infrastructure upgraded. I believe, for the most part, we have accomplished that goal with the construction of the Day Lodge/Custodian Residence, Maintenance Building, Pole Barn, new Stadium Loop and Terrain Park, replacement of trail bridges, new ski trails and re-routing of existing trails, new grooming and race event equipment, hiring of a club coach and successful hosting of high level race events. The final project will be the installation of trail lighting (see article below) this coming summer. It has been a busy and productive six years.
It is now time for someone else to take the stewardship lead of the club. The major growth phase has happened. We now need a President and Executive who can successfully steer and manage the club over the coming years focusing on maintaining and hopefully increasing membership and club services.
As I have mentioned numerous times in the past, the success of our club is built upon the incredible volunteer commitment of club members in all aspects of our operations. The number of volunteer hours put in by countless club members to cover responsibilities ranging from coaching our young and up and coming skiers, staffing the Ticket Office to collect the ever important Day Use Fees, grooming our trails, and assisting with club races and events is a testament to the strength of our club. As we move forward, it has become apparent to the Club Executive, that we are at the point where the Club now warrants the services of a paid Club Manager to oversee and take some of the work burden off of club members (see article below). The Club will still need members to volunteer their time to assist with club operations (coaching of the children's programs, trail grooming, special events), but some of the more administrative functions will be now be the responsibility of the Club Manager.
Finally, please plan on attending the annual Pot Luck dinner at the Community Centre on April 6th (5-8PM) and the AGM at the Nordic Lodge on April 7th (7-9PM).
Dave Kaegi, President
[symple_divider style="fadeout" margin_top="20px" margin_bottom="20px"]
In this edition: AGM, Potluck, Nordic Norm, Hiring a club Manager, Fee Increase, Club Manager position and more!
[symple_divider style="fadeout" margin_top="20px" margin_bottom="20px"]
The final official grooming of the season will be on Sunday, April 6th. Grooming after that date will be wholly dependent on snow! You can check the snowphone or the online trail conditions section of the website for details.
[symple_divider style="fadeout" margin_top="20px" margin_bottom="20px"]
Coach's Report
2013-14 proved to be quite a successful season for the Revelstoke Nordic Ski Club. With all major competitions and programming behind us, we're now enjoying the remaining days of Macpherson's fine spring skiing! Since our last Newsletter update, Revelstoke skiers have competed in a BC Cup, Okanagan Cup, BC Midget Championships, BC Winter Games, BC Championships, plus our Team Scream and the Huckleberry and Sovereign Lake loppets. Equally noteworthy was our thoroughly enjoyable Mini Olympics, bringing together skiers from all our levels and capping off our Ski League program. Throughout the season, there have been countless impressive individual accomplishments. However, what is most remarkable is number of skiers getting hooked on our great sport!
Here are highlight results from the second half of the season: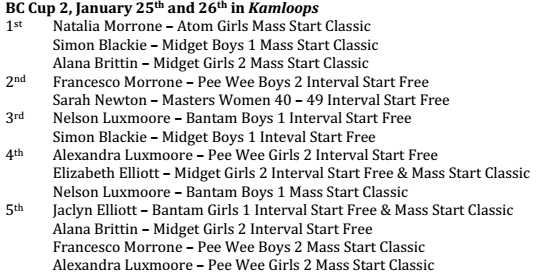 BC Winter Games, February 20th – 23rd in Mission/Callaghan
All four eligible Revelstoke athletes qualified to represent the Okanagan region. As co-coach for the region, I had the pleasure to join the team at this superb event. For many athletes, this was their first multi-sport event and having the timing coincide with the Sochi Olympics highlighted the significance of the competition. Congrats on the stunning results girls!

BC Championships, February 28th – March 2nd in Kelowna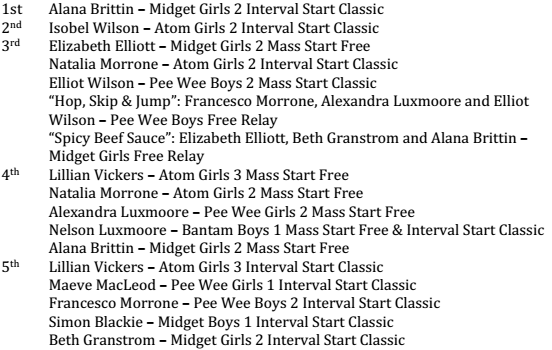 2013-14 BC Cup Series Aggregate Awards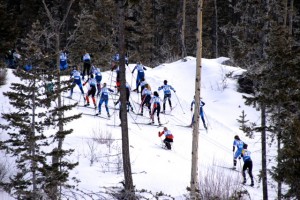 Congrats to ALL skiers on their performances this season – hard work and dedication has paid off! Once the snow has disappeared, skiers will take a few months to enjoy springtime and other pursuits. Athletes are able to return to our training program whenever they desire; some will begin dryland training in July and others will hold off until fall training commences.
It cannot be overlooked how vital our volunteer support network is to the success of our program. To begin, I would like to thank our Bunnies, Rabbits, Trailblazers and Track Attack coaching crew, inclusive of (but not limited to): Kendra von Bremmen, Chad Smith, Hailey Christie-Hoyle, Mandy Kellner, Sylvia Wood, Emily Suchy, Jasmine Brackenbury, Robyn Thomas, Koreen Morrone, Lisa Larson, Bart Larson, Daniel Blackie, Ian Brown, Janette Vickers, Rory Luxmoore, Bruce Granstrom, Katie Nash and Tayla Koerber. Special guest coaches and presenters included Brittany Evans, David Palmer, Nikki Norrie and Fraser Springings. Our waxing team at races is led by Penny Page-Brittin and supported by our fast-learning wax technicians: Brad Park, Lucie Bergeron, Rory Luxmoore and Jason Stupnikoff. Bruce Granstrom has become our pre-race warm-up coordinator and Debbie Koerber continues to photo document our races, with Mike Thomas and Koreen Morrone snapping shots in Debbie's absence. Finally, there is an extensive list of unnamed parents who have held various thankless roles throughout the season and we appreciate your selfless support of the Revelstoke Nordic Ski Club.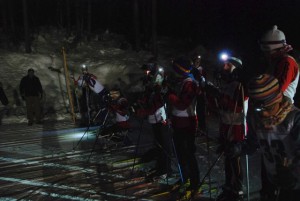 A new addition this season, the Headlamp Heroes Wednesday Night Race Series closed out the season in serious fashion (literally, with costumes). Our final two events were a Mass Start Free technique event on February 5th and a mixed relay event (gender and technique) on March 5th. These final events were sponsored by Free Spirit Sports and Flowt Skis and Bikes, respectively. In addition to our local sponsors, there are two individuals who put forth considerable time to make the events a success. Thank you to Wade Viznaugh for your commitment to providing excellent trail conditions on race day (and always) and to Ian Ward for your consistent and timely work on a myriad of tasks, from accepting registrations, to timing splits and tabulating results. With an average attendance of 36 skiers per event, a big thank you goes out to all who have embraced the inaugural race series and we look forward to welcoming newcomers to our friendly starting line next season!
Our Intermediate and Advanced Adult classes were well received again this season, albeit with a smaller turnout. Nevertheless, class atmosphere was un-paralleled: positive, easy-going and seemingly constructive! Several skiers also took advantage of our Wednesday Open Training workouts. Recently, it was announced that the 2015 Canadian Masters Nordic Championships are to being held Kamloops from February 8th-15th. Hopefully this nearby title event will stir up some interest in creating a more active Masters training group next season. Furthermore, look for an expansion of One-Day Clinic offerings for 2014-15!
Our Ski S'kool completed on a high note with Begbie View and Arrow Heights thoroughly enjoying their experiences. Several keen skiers have since taken the opportunity to enjoy cross-country skiing outside of the Ski S'kool programming. Our Ski S'kool programs would not be possible without the generous support of our volunteer coaches. Thank you to Louisa Fleming, Michael Moen, Sarah Boyle, Tayla Koerber, Heidi Hopkins, Sean Gallagher, Koreen Morrone, Mandy Kellner and the numerous parent chaperones.
Coaching courses are being scheduled already for the 2014-15 season. If interested, please contact
[email protected]
as we will endeavor to hold a local course offering this coming fall. Please do not hesitate to contact with any other questions, comments, suggestions etc. regarding our program. Finally, our End of Season Potluck is being held on Sunday, April 6th at the Community Center. Please RSVP to the above email with number in party and dish (appetizer, main, dessert). Pictures for our slideshow may be included in the RSVP.Thank you Revelstoke Nordic for another fabulous Nordic ski season! Enjoy the golden days of the 2013-14 campaign and we'll catch you back on the thin sticks before too long!
[symple_divider style="fadeout" margin_top="20px" margin_bottom="20px"]
Trail Lighting
Next season, you can put away your headlamps for night skiing. We will have 5 kilometres of lit trails for night skiing! The club has been successful in acquiring $225,000 of funding to install trail lighting on the following trials: Stadium and Terrain Park, Main Loop up to Mickey Olson Trail, Mickey Olson Trail, and Dynamite Trail. In addition, flood lights will illuminate Evelyn's Choice trail from the Mickey Olson Trail.
None of this could have happened were it not for the generous financial contribution of The City of Revelstoke's Tourism Infrastructure Fund ($75,000 – pending council approval), Columbia Basin Trust ($75,000) and the Columbia Shuswap Regional District – Economic Opportunity Fund ($75,000 – pending council approval). A huge Thank You to our funders.
[symple_divider style="fadeout" margin_top="20px" margin_bottom="20px"]
Ski Development League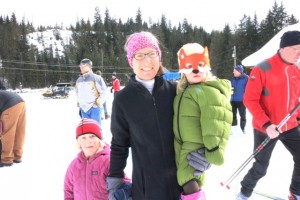 Another year of ski league is winding down. I say winding down because it never really ends – our head coach Matt keeps the kids in Track Attack, Junior Development and others who are interested going most of the year!
This year, we once again had over 80 children in the program, which speaks to the quality of the program and a super strong parent group.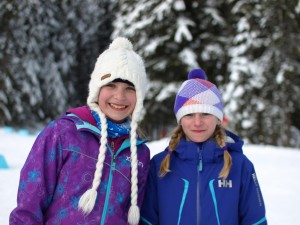 I would like to send my heart felt thanks to everyone who makes ski league possible. If it were not for people volunteering their time we could not put out the quality program to so many of our future club and ski league leaders. Thank you to everyone who volunteers their time to coach, groom trails, make hot chocolate, support race events, clean, tend to the office and lend a helping hand when needed (and the list could just keep going)……This club rocks!!
Every year we need new volunteers as people move on to other things, so if you would like to get more involved in this awesome experience and volunteer as a coach, please let me or any other club executive know.  Ian Brown
[symple_divider style="fadeout" margin_top="20px" margin_bottom="20px"]
Dog Loop Update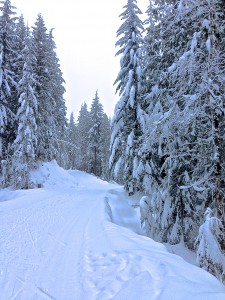 Greetings! Once again I am so appreciative of the RNSC dog loop. The superb skiing and responsible usage during 2013-2014 season made it a pleasure to visit Macpherson.
This season one hundred and eighty RNSC members registered to ski with approximately 100 dogs. Included were seventeen families, thirty four couples and forty three single members. Skiers of all ages and abilities took advantage of our wonderful loop. The dogs ranged from Brutus to Baby, from Cyz, a Cane Corso to Ruby a mini labradoodle.
Thank you to the groomers and trail crew for your dedication. The new configuration of the loop has provided challenging, thrilling hills while decreasing potential collisions.
Plastic poo bags no longer dot the trails (or hang in the trees). The Spring thaw may expose some bags but the usage seems to have decreased. Thank you, Doggers.
Conflicts on the dog loop have also decreased. Please continue to contact me with specific issues.
See you on the trails, Paula Hill
[symple_divider style="fadeout" margin_top="20px" margin_bottom="20px"]
Nordic Norm
Dear Nordic Norm:  I happened to see you in the wax room applying klister with Coach Matt and I noticed you both using a heat gun to smooth out the application. You once told me to use an old iron, so why the change? Is this some new secret you're not sharing with me?    Signed: Out in the Cold??
Dear Chill Out:  Indeed prior to this season I have always applied my klister with a warm, but not hot, old iron that I had around for this single purpose. I went to the heat gun after my visit to Thunder Bay this summer.
While in T Bay I was sitting around the cottage on Soo Prize Lake and saw some smoke emanating from the sauna over at Janni and Satu's place across the lake. As people have come to know, Janni and his buddy Pentti are old masters skiers from Lappe Nordic and Satu is Janni's spouse. I decided to paddle across the lake to catch up with my old ski buddy and hear about his latest nordic adventures. When I got there, whom else did I find but the one and only Pentti, tucking into some Karelian Piirakkaa (rice pastry) and washing them down with olutta (beer).
While engaged in the serious summer time talk about skis, poles, boots and of course wax, Janni lamented that he will be unable to afford new skis this winter, as Satu had to replace her dress she required for the Thunder Bay Finnish Folk Dance group she was part of. Janni explained that traditional dresses are handmade only in northern Finland and were very, very expensive. I was quite taken by how magnanimous Janni was, and I made a special point to compliment him on his generosity. I took Satu's funny little grin as appreciative confirmation to the magnitude of Janni's unselfishness.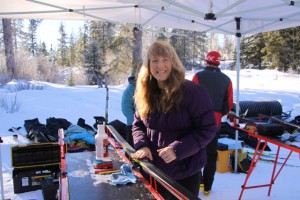 I happened to run into Pentti the next morning diving into a plate of Finnish pancakes at the Hoito Restaurant on Bay Street. He had a big grin and told me to have a seat while he enlightened me as to why Satu got the dress and Janni didn't get the skis.
You see, Janni one morning forgot his wax irons at Pentti's place. It was a beautiful early spring ski day and he wanted to ski: now!! So he snuck into Satu's sowing room and borrowed her travel iron to apply some red klister. He cleaned it off, or so he thought, and put it back exactly how he found it. Janni had a great ski, the wax was great and what Satu didn't know wouldn't hurt her.
The Finnish dance group traveled to Pori Finland that spring for a huge festival. While ironing the dress, it appears that some residual klister that had found its way under the folding handle, melted with the heat and deposited itself on the backside of the red crushed velvet dress. It was lucky Janni's spring ski day wasn't colder as it could have been blue or silver klister: red dress, red klister; no problem. Unfortunately klister on fabric is sort of like one of those swiffer dusters; as the day wore on debris accumulated on the klistered dress, extenuating the blotch. The tell tale give away however was as Satu relaxed over tea on her hostess' couch, her body temperature heated the klister. When she got up to help in the kitchen, a throw pillow now stuck to the dress came along for the ride. Wow, red klister, red dress and one red and steaming Satu. Klister is kryptonite to crushed velvet, so she gets the new dress and Janni doesn't get the skis.
Always learning from other people's misfortune, I have decided the heat gun is the safer choice. I am hoping to get some new skis next year.
[symple_divider style="fadeout" margin_top="20px" margin_bottom="20px"]
Club Manager
Over the last six years the number of cross country skiers using the Nordic facilities managed by the RNSC has increased dramatically. The number of club members has almost doubled, and at the same time day users have quadrupled. Coinciding in this growth of Nordic facility usage is the increase in breadth and scope of programs and services offered by the club. The net effect of all this growth has resulted in a dramatic increase in the number of volunteer hours required to maintain the club programs and services. The Club Executive believes we have reached the point in the club's growth and development to warrant the hiring of a seasonally employed Club Manager. The Club Manager would assume a number of key responsibilities currently being fulfilled by volunteers. These rolls and responsibilities include but are not limited to:
Staffing of the Ticket Office
Membership duties (management of Zone 4, members night)
Coordination of Lodge rentals
Assisting with janitorial duties
Coordination of club volunteers (grooming, Ticket Office, work parties)
Club communications (website updates, responding to telephone and email inquiries, production of newsletters and email Nordic Updates)
Book keeping and records maintenance
Ordering of club supplies
Potential running of ski rental equipment
Marketing and Outreach
Currently, the majority of these roles are undertaken either by members of the Executive or club members at large. The hiring of a Club Manager would allow all of us to focus on why we primarily are members of the club; to cross country ski.
[symple_divider style="fadeout" margin_top="20px" margin_bottom="20px"]
Director's positions
The Revelstoke Nordic Ski Club and its predecessor the Revelstoke Ski Club, has been in existence for over 100 years. For all of that time, hundreds of volunteers have offered up their time and energy to sit on the Club's Executive. This continuous, ever changing make up of the Executive is the key to the Club's success over all of these years. Each year, the Executive has vacant positions that need to be filled. This year the positions are:
Club President
Overall direction and responsibility for club activities
Chairs meetings, sets agendas
Ensures that Directors meet their responsibilities
Represents Club to government and other agencies
Works with treasurer and Secretary to file reports to government agencies, funders and Society
Coordinates fundraising and writes Grant applications
Personnel –ensures that all paid staff have a job description, recent criminal record check and annual performance evaluation.
Is an ex-officio member of all committees.
Has signing authority
Director of Facilities
Responsible for maintenance of Day Lodge, Maintenance Shop and all other buildings
Supervises any construction or repair projects to these buildings
Supervises the Custodian
Coordinates with the Ticket Office Coordinator
Responsible for reading the log book and dealing with the feedback
Coordinates lodge rentals
The Club Executive is elected at the AGM each year in April. A term on the Executive is for 2 years. If the Club is to continue thrive and grow into the future, it needs new individuals that bring new ideas and enthusiasm to the board. Please consider putting your name forward to become a member of the Executive. For further information, please contact any member of the Executive.
[symple_divider style="fadeout" margin_top="20px" margin_bottom="20px"]
Proposed 2014/15 Fee Schedule
The Executive of the Club believe that it is the appropriate time to propose a fee increase to the membership. The current fee structure for both annual membership passes and Day Use fees are on the low end of fees for all major Nordic areas in our region (Kootenays and Thompson/ Okanagan region). Even with the proposed fee increase, the RNSC will still have some of the lowest annual membership and Day Use fees. The Executive is proposing a fee increase to help offset some of the additional costs associated with the following initiatives:
Annual operating cost of the new trail lighting system
Annual cost for snow removal services in the parking lot throughout the winter. Currently parking lot plowing is done by the volunteer groomers. Volunteer groomer's time is better spent grooming the Nordic trails rather than plowing the parking lot.
Hiring of a Club Manager to assume a number of current volunteer responsibilities
The proposed fees would be:
| | | |
| --- | --- | --- |
| | current price | new prices |
| Family membership | $216.00 | $265.00 |
| Individual membership | $97.00 | $120.00 |
| Child membership | $39.00 | $40.00 |
| Adult Day Pass | $9.00 | $10.00 |
| Family Day Pass | $21.00 | $25.00 |
| Child Day Pass | $5.00 | $5.00 |
| Snowshoeing/Parking | $5.00 | $5.00 |
*Note the $10.00 per person CCBC fee for insurance is not included in the current or proposed fees.
The membership will be asked to vote on the proposed fee increase at the AGM. The motion will be to approve the proposed fee schedule. If the motion is voted down by the membership, the Executive will not proceed with the proposed initiatives as outlined above and the fees will remain the same as this year.
[symple_divider style="fadeout" margin_top="20px" margin_bottom="20px"]
Revelstoke Nordic AGM
The Annual General Meeting will be held on Monday, April 7th at 7pm at the day lodge. This is an important opportunity to speak with board members and learn about the direction the club is heading. We will also be electing next years board members, and voting on the proposed fee schedule.
[symple_divider style="fadeout" margin_top="20px" margin_bottom="20px"]
Annual Potluck
The potluck will be held on Sunday, April 6th from 5-8pm at the community centre. The potluck is for all of the general membership.
There will be awards presented for young (all Ski Leaguers will receive an award) and old (new — Headlamp Heroes and Masters awards will be presented); a wide array of delicious food to be enjoyed; games for the playing; and a slideshow for your enjoyment (please send me any pictures from the season).
Complimentary tea, coffee, juice and water will be provided.
– number in your party
– potluck contribution (appetizer, main or dessert)
– whether you are interested in helping with setup and take down (before/after the event)
[symple_divider style="fadeout" margin_top="20px" margin_bottom="20px"]
Thanks for another wonderful Nordic season!