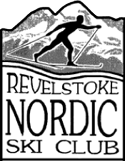 February 10th, 2017
Greetings Nordic Folk!
It's a big weekend at our club as we are hosting an OK Cup for racers of all ages from around our region.  If you are a racer or the parent of a racer, you have probably already read the race notice.  If you are not racing, please be sure to read the details in this letter because things will busy at the RNSC!
Okanagan

 Cup 

XC

 Race Starts Tomorrow! 
There are two days of races (Feb 11-12th), and while this promises to be lots of fun for everyone, there will be heavy traffic on the trails and in the parking lot.  There will be parking lot attendants there to help, and please be aware that only vehicles with 4 or more passengers will be allowed to use the parking lot.
Take the Free Shuttle!  We ask members and racers to please make use of the free shuttle available from the Big Eddy Fuel Station (Hwy 23 S/ TCH).  It will leave the fuel station every 30 minutes from 7:30am to 2:00pm.  (Returning from the lodge at 30 minute intervals starting at 7:45am.)
The RNSC runs on volunteer power.  In advance of the big race this weekend, we want to thank the race organizers and the volunteers who will line the race course for their contributions and preparations.  We also want to thank the ski league volunteers and our volunteer coaches who give their time on weeknights and weekends to make Nordic skiing fun (and fast!) for our club members.
CCC member discount on Swix clothing
You are a member of the RNSC so that means you are part of the CCC – Cross-Country Canada.  Swix has offered the CCC a great deal (up to 60% off) on mid-layer clothing.  Go to
www.swixsport.ca
and use the following promotion code: CCCMEMBER17.  Offer ends February 20th.
Enter the P'ayakentsut Loppet for Free!
We have one 
free entry
 to the Sigge's P'ayakentsut 
Loppet 
to give away!  The Loppet is happening in Whistler Olympic Park in the Callaghan Valley on 
February 25th
.  The entry is for an adult for the 15, 30, or 50km distance.  Send your request to 
[email protected]

g
 by February 10th.
There is more info about the race at 
www.payak.ca
, and Kelsey (our RNSC Manager) has information about affordable accommodation in the office.
Send Us Your Photos!
We're always looking for 
photos
!  Send your pictures of skiing and the trails and other Nordic awesomeness to 
manager@revelstokenordic.org
 and you could see it on the website!
See you on the trails!