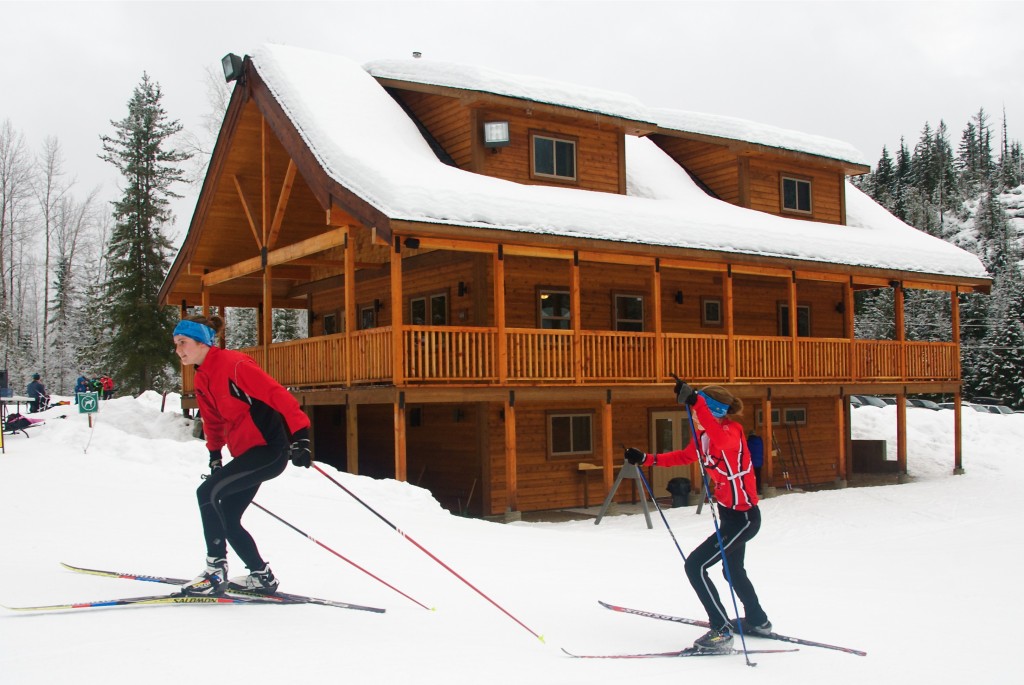 photo credit: D.Koerber RNSC
President's Report
What a ski season we have had and continue to have!  The snow coverage is still perfect given that it is the end of March.  Lets hope we get some more stellar blue bird days to enjoy great spring cross country skiing.
In addition to the great skiing we have had, it has also been a note worthy year on a number of different fronts.  Our club membership has climbed to a record high of 492 members ( I had hoped we would break the 500 member mark but maybe next year).  We hired our first full time coach/Lodge Custodian – Andrei Pascu, introduced many new programs including Masters Ski group, Ski clinics, private coached ski lessons, Mom and Tots ski group ,and a new Skool Ski program.  In addition our grooming crew now has 11 members on its roaster.
George Grey Visit
George Grey is a former Olympian and National team ski racer. He is coming to Revelstoke on the weekend of the Team Scream Race to host clinics and give presentations. This is a great opportunity to learn more about waxing, ski technique, nutrition and a lot more. The Team Scream is free, and does not require pre registering. The rest of the weekends events require pre registry.
Itinerary:
Saturday, February 11th
8:30-9:45 Mingle and ski with George (warm-up type ski)
10-11 Fun Rabbit Event/Game
11-13:30 Team Scream Race, awards and food (a
potential opportunity to get George to sign your swag!)
13:30-14:30 Track Attack skate ski technical instruction
14:30-15:30 Junior Development skate ski technical
instruction
15:30-16:30 Masters skate ski technical instruction and
best practice drills
19:00 Good to Great multi-media presentation at the
Community Centre ($5 if not already registered for the
weekend)
Sunday, February 12th
8:45-10 Masters Classic technical instruction and best
practice drills
10:30-11:30 Wax and grind and equipment selection
technical instruction
11:30 Nutrition Presentation and Lunch (sandwiches will
be provided)
13:15-14:30 Track Attack classic technical instruction
and best practice drills
14:30-15:45 Junior Development classic technical
instruction and best practice drills
16:00 Core training, plyometrics and weights (ages 10+)
(location to be announced)
If you would like to register for the weekend Fees are $5 for Junior racer members, $15 for Masters members and $20 for non-members.
There is, as usual, no charge for the Team Scream or the Rabbit event.
To register, send an email to [email protected]
SAR Training Exercise
The Revelstoke Nordic Ski Club and Revelstoke Search and Rescue teamed up to host a mock search and rescue practice on January 26th at the Macpherson nordic centre.  Volunteer SAR members responded to a report of a missing and possibly injured cross-country skier.  They completed a snowmobile search of the nordic trails until they located the missing person, treated her for injuries and hypothermia, and evacuated her to the lodge by toboggan.  The exercise was a great way for the SAR members to get to know the nordic trails and refine their search techniques, so that in the event of a real emergency they can assist as needed as quickly as possible.  Thanks to Revelstoke SAR for efforts  and thank you to Danyelle Magnan for helping coordinate.
Dog Trail Information
Thank you to everyone who has done their part keeping Macpherson's dog cross-country ski trails beautiful and safe for all RNSC members. Great news! RNSC has received a $500 donation from Terry and Matt Callaghan – Arrow Helicopters for the maintenance of the dog ski trails. Terry writes "I appreciate having the dog loop so much, I want to send a big thank you to all the volunteers that help work on it!! My favorite sight to see is when I am skiing on the loop and there are many seniors out with their dogs and the moms with kids and the family dog. I know from having four children how hard it can be to walk the dog, get the kids out to play and exercise yourself. Having this awesome dedicated loop allows a family to do it all. It brings joy to my heart!" This is a very generous gift that will encourage all of us to be a better stewards of these trails.
I will begin discussing uses for the donation with the RNSC board. Better signage, more frequent touch up grooming, more trowels and a dog waste bag/container system are a few of the possibilities.
Many members have made suggestions about useful information on a dog loop sign. Describing the loop as a shared use section of RNSC is key. All skiers should follow normal ski etiquette including staying to the right on two way trails, groups not passing on both sides of fellow skiers and slowing down at intersections. With the popularity of the dog loop increasing and more beginners on Roadway Ramble-Easy Al's-BCIT care should be taken by everyone in this section. A dog loop sign at the start could inform skiers that dogs may be encountered in this section of Macpherson and include a map outlining the leashed, unleashed and prohibited areas and also inform all skiers that the continuation of the dog loop is reviewed yearly. Day skiers could be directed to the lodge to pay the usage fee.
Let me know of any ideas you may have to upgrade and maintain the dog loop.
And a big thank you to the Callaghans and Arrow Helicopters. In addition to the financial aid this gift reflects appreciation for the RNSC dog loop. Many of us can agree.
Paula Hill, RNSC Dog "liaison"
Nordic Pull
Rob Serroya and Sylvia Wood have kindly donated a pulk to the Nordic club a pulk to the Nordic club for members use. The pulk
is available to members any time the lodge is open. This is a great way to pull your child while you get a great ski!
If you would like to reserve the pulk so you know it is available for your use, you can do so by sending an email to [email protected]. Reservations will show up on the Calendar of the website. Otherwise, you may show up at the lodge and borrow it if it is available. The pulk will be automatically reserved on Friday mornings for the parent and tot drop in. Thanks a lot Rob and Sylvia!
Trailblazers
We are very excited to have a new addition to the ski league program. The Trailblazers group is for kids ages 10 and up, focusing on both classic and skating technique as well as offering some other adventurous activities.  This program was created out of a demand for those kids not wanting or able to commit to a racing program but who wanted to keep skiing and learning. The objective of this program is simple – it is to keep kids skiing and foster a life-long passion for the sport.
Trailblazers ski two times a week. So far this season, in addition to many skill development lessons, we have also had an avalanche awareness day of beacon searches and a rescue dog demonstration, an environmental awareness day
where the kids learned about different ecosystems along the trails and a winter survival and safety day.  Other destinations and special events are planned for the remainder of the season and by all accounts parents and kids alike seem quite happy. We are very appreciative of the support we have received from everyone, especially the club executive and Bruce Grandstrom, who was doing a great job of being as inclusive as possible with the Track Attack group.
Happy skiing and see you out on the trails!
Coaches Ian Brown and Rory Luxmoore.
Lessons
Private and Semi Private Lessons are available. Lesson times are Mondays from 8am to 3pm, Tuesdays and Wednesdays from 9 to 10:30am and Mondays and Wednesdays from 7 to 8:30pm under the lights! Lesson pricing is $40 for a semi-private and $60 for a private lesson (trail pass is extra for non members)
Contact Coach Andrei 250 814-4264 or [email protected] or make your booking through the Revelstoke Outdoor Centre 1 866-373-4754/250 814-5060.
Team Scream
The Team Scream Ski Relay race will be held this year on Saturday February 11 at the Mt Macpherson Ski Trails. Registration is from 9:30 to 10:30 with the race starting at 11:00. The format for the tandem race involves two skiers, one classic and one freestyle, each skiing a lap around the Mickey Olson Loop. The best combined time in each category wins. There is also an individual pursuit category where one skier does both the classic and freestyle laps themselves. The emphasis for this race is on participation and FUN. If you can't find a partner come out to watch or we'll help match you with a partner.
A prize will be awarded for the best costume. This year the theme for costumes is Witches/Wizards/Harry Potter. Use your imagination. We expect to see lots of great costumes!
The club will provide free burgers and chilly for all participants and spectators. There is no cost for the race if you are a club member. Non-members pay the day rate. After the race there will be a short race for the Ski League Bunnies and other young skiers.
As a special bonus this year National Ski Team Member and Olympian George Grey will be at the race. After the race he will be doing clinics but during the race he will be available to sign swag and chat to. Watch the website for more information!
Lodge Rentals
The Nordic Lodge is available for rentals! It is a great place for business or private functions. Rentals include a rustic comfortable venue with a common room with tables and seating capacity for 60, a sound system compatible with ipods, a full kitchen with complete place settings for 24, a large outdoor covered deck and a cozy pellet stove. Our competitive rates are:
Non-Profit, community groups, sports groups: $50 plus $150 refundable deposit
For-Profit, private events: $150 plus $200 refundable deposit. For complete details, go to www.revelstokenordic.org, or send us an email at [email protected].
Lodge Photos
Thank you to Cathy English from the Revelstoke Museum and Archives for allowing Rob Buchannan to select the heritage photos of cross country skiing in the Revelstoke area that now adorn the walls of the lodge. These photos have made the final touch to really complete the lodge!