President's Report
Our club is still operating without a President. With our growing membership, we really need to have the leadership and direction that a President can provide. Please consider supporting the club and joining our board of directors.
---
Memberships as gifts
Christmas is coming! A nordic membership makes a great Christmas gift. Get your friends to join you on the trails. You can purchase a membership for a friend or family member at www.zone4.ca.
---
CLUB MANAGER'S MESSAGE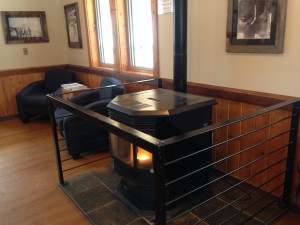 Hello Members,
December is off to a great start with excellent conditions on the trails and many skiers out enjoying the lights in the evenings. I'm happy to have been chosen for this new position and am looking forward to meeting you all. A bit about myself: I moved to Revelstoke from Vancouver in 2013 after spending several winter seasons here.  I bring experience working in non-profit administration and a love for skiing to this position.
I grew up in Nova Scotia, skiing on the trails around my house.  As an adult, I've had the opportunity to explore many great Nordic ski areas across the country, having lived and worked in Gros Morne National Park, Gatineau and Canmore. After all my travels, I can honestly say I think the trails and facility here are fantastic and I'm glad to be part of such an active Club.  I hope to see you out on the trails!
Natelle Fitzgerald, Club Manager, 250.837.8858
---
MEMBERSHIP CARDS
Membership cards are ready.  Stop by the ticket office to pick yours up.
---
NIGHT SKIING
Night skiing has started.  Six kilometers of groomed trails are being lit from dusk until 9:30 pm every evening.  Lit trails include:  The Mickey Olson Loop, Evelyn's Choice, Dynamite Trail, Terrain Park, Main Stadium and part of the Main Loop.  The Lodge will remain open to accommodate evening skiers, with a closing time of 9:00 pm.
---
Lantern Ski 2015

The lantern ski is bigger and better than ever in 2015. Join us on January 1st, 2015 from 5pm to 8pm to ski our lit trails around Mickey's loop, or our lantern route around Main loop. We will be serving snacks and hot drinks at the main lodge. There will be drinks and a few snacks at Ole Sandberg hut as well.
Bring your own mug for hot chocolate
If possible, young families with children should come between 5 and 6:30, and adults between 6:30 and 8. However, you are welcome whenever you can make it.
This is a free event for members. Non-members pay the day rate.
We need volunteers to help out. Tasks include cleaning and filling lanterns, serving food, helping with parking and greeting and collecting day use fees. If you can help with any of these tasks, please contact Brendan at [email protected] or 250-837-4044
---
Dogs on Ski Trails
 We recently received this message from CCBC regarding Dogs on trails.

"Clubs that allow dogs on their premises are advised to inform dog owners that they are responsible for their dog's behaviour.
The owner of a dog is responsible for maintaining control over his/her pet and to be in abidance of any bylaws etc. that govern having a pet in public.  If a skier is interfered with by a dog and suffers bodily injury, and they sue the dog owner and the club for damages, the club will be fully protected under the CCC/CCBC liability insurance policy.  However the owner of the dog has no protection and is personally responsible for his/her dog's actions just as they would be in other similar settings."
---
SKI RENTALS
The Club recently purchased, along with the school board, 50 pairs of skis, boots and poles, for both classic and skate, from Sovereign Lakes.  This equipment is now available for rent at the Lodge, from 9:00 am until 3:30 pm, seven days per week.  The equipment is being shared with the schools, so please call in advance to make sure we can accommodate you with the proper size and equipment. Right now we accept cash only for payment.  A credit card number will be required as a deposit. Renters must pay for the equipment at the ticket office and sign a waiver form.
The rates for rentals are as follows:
$20/day for skis, boots and poles.
$15.00/day for skis and poles only.
$10.00/day for boots only.
$5.00/day for poles only.
---
Ski League
We had a great start to Ski League on Saturday, December 6th!  We have reached 86 registrations for Revelstoke Nordic Ski League from Bunnies through Junior Development.  MacPherson Lodge was a swarm of activity this past Saturday with 37 Jackrabbits, 10 coaches, parents, siblings, volunteers, and Track Attack & JD athletes, all attending our annual pancake breakfast and first day of lessons.  Thanks to our amazing kitchen crew who served up 11 batches of pancakes!
---
VOLUNTEERING
We're looking for volunteers to help staff the ticket office. With the lodge now open for night skiing, we could use help in the evenings, as well as certain times during the days.  Available times include:
Evenings (all week): 4:00 pm to 6:00 pm
Evenings (all week):  6:00 pm to 8:00 pm
Tuesdays and Wednesdays: 10:00 am to 12:00 pm
Tuesdays and Wednesdays: 12:00 pm to 2:00 pm
If you're interested in volunteering for the ticket office, please contact Natelle at [email protected] or call 250.837.8858.  We'd love your help!
---
Race Team
The snow has arrived and our skiers have eagerly accepted the transition from dryland to on-snow workouts. The skiers are thoroughly enjoying the superb environment provided by the newly lit trail system!
Our 17 Track Attack and 11 Junior Development skiers are led by Coach Matt, alongside a dedicated cast of co-coaches including Rory Luxmoore, Bruce Granstrom, Clare Peacock and Adele Lay. In November, six JD skiers and Coach Matt attended the BC Talent Squad On-Snow Camp at Callaghan Valley. Later in the month, 11 TA & JD skiers and Coach Matt enjoyed the opening weekend at Silver Star for the Regional On-Snow Camp. The camps provide an excellent opportunity for skiers to interact with their peers from other clubs and receive feedback from a wide range of experienced coaches.
Our eldest skiers kicked off their season at the Sovereign Lake Open this past weekend. Racing in large categories spanning across multiple age groups, skiers focused on maintaining technique and following their race plans. Offseason training has paid off as almost all skiers placed top five in their birth years, including several first placings – well done JD crew!
We are now looking forward to attending the NORAM event in Rossland, our Holiday Camp at the club and the Okanagan Cup in Salmon Arm before the end of December. Ski season is in full swing and we're ready for action! A big thank you to all of our volunteers who have assisted with fundraising efforts throughout the offseason and Alta Gas for their continued support of the Revelstoke Nordic Ski Club.
---
Adult Programs
We have a variety of options for adults looking for Nordic instruction! Please contact [email protected] for more information or to register for any of our Adult Programs. Private, semi-private or group lessons are also available.
Adult Beginner: Looking to get into classic or skate skiing? Here's a four-session option to get you on the trails. $60/4 sessions.
Classic – Monday nights in January (5th, 12th, 19th, 26th) from 7 – 8:30pm
Skate – Monday nights in February (2nd, 9th, 16th, 23rd) from 7 – 8:30pm
Adult Intermediate/Advanced: Technique-based sessions alternating between classic and skate. Participants may choose between Tuesday evenings from 7:30 – 9pm or Thursday afternoons from 12:30 – 2pm. Runs for 10 weeks beginning with classic technique on Tuesday January 6th. $75/5 sessions; $125/10 sessions.
One Day Clinic: On Sunday, January 11th there will be a One Day Clinic. Technique instruction on classic skiing will take place in the morning (10am – noon) and skate instruction will be offered in the afternoon (1 – 3pm). Skiers may choose to enter one or both of the clinics. $20/2 hour session.
Open Training: Intensity-based sessions for individuals looking for a group workout environment. Wednesday evenings from 7:30 – 9pm on non-Headlamp Hero nights (note: no sessions on December 24th and 31st). No charge; just limbs and lungs!
---
Headlamp Heroes
Our Headlamp Heroes Race Series is back again this year to bring speed and laughter into our Wednesday evenings! Regardless of whether headlamps are necessary, the name of the game is staying the same!
Interval Start Classic – December 10th
Skate Sprints – January 7th
Mass Start Skate – February  4th
Mixed Technique Relay – March  4th
$2 entry fee and draw prizes to be won! Registration from 6 – 6:30pm; Racing starts at 7pm.
---
Cooper's Cards Fundraiser
You may have already heard about the Cooper's Cards fundraiser our club initiated last year. We are participating in this fundraiser again. It requires minimal time on the part of club and ski league members, and no extra cost. The club earns between 6% and 8% on every dollar of Cooper's cards/vouchers sold. Purchasing Cooper's cards will help keep our fees low and pay for coaching certification, equipment, and special events, to name a few. Cards come in $100 denominations. You can pay with cash or cheque (payable to Revelstoke Nordic Ski Club).
Club members will be able to purchase cards from our new Lodge manager, Natelle Fitzgerald Thursday-Monday 9am-3:30pm. Please email her to arrange an exchange at [email protected] or call her at (250) 837-8858.
We are asking Ski League families to purchase $1000 minimum by the end of the season. Families can obtain cards from Vanessa Morrow. Please email to arrange card/cash exchanges (Saturdays at lessons are most convenient). [email protected]
We are asking Track Attack and Junior Development families to purchase $2000 minimum. Please email Natalie MacLeod to arrange. [email protected]
Thank you for your support!
---
Nordic Yoga
How Yoga can benefit your skiing: The obvious reasons are, flexibility, strength, also developing of mental and physical stamina. The practice of yoga can help prevent injury by teaching you techniques that help you become more embodied giving you a greater understanding of how to move your body in a way that supports your overall well being. Skiing is a sport that builds lots of lower body strength and the practice of yoga helps with building upper body strength while also stretching out your lower body to aid in increased mobility. It also helps build equilibrium in the body. We tend to have areas in our body that compensate for weaker areas, and with the practice of yoga you can learn to become more balanced in your body which benefits not only skiing, but also the emotional imbalances we are met with at different times of our lives and different times of the year.
We will be opening up 20 spots for pre-registration. Pre registration is necessary, before January 2nd. We require a minimum of 18 people run the program. There will be no dropins. If the 20 spots are not filled, then the class will be opened up to drop ins or cancelled depending upon the desire of participants.
---
Emergency Plan
Please take a moment to review and understand our Emergency plan. You can view it any time on the website, or posted in the day lodge.
Revelstoke Nordic Ski Club – Rescue Plan
for Mount Macpherson Ski Trails

The Nordic trails are not patrolled
Ski at your own Risk

Emergency (Fire, Ambulance, Police, SAR)     911
Hospital     250-837-2131
Revelstoke Nordic Lodge     250-814-4264
Mt Macpherson Ski Area is located 7 kilometers south of the Trans Canada Highway on Highway 23 South (address is 2265 Hwy 23 South).

For emergencies needing transport off the ski trails call 911, describe the nature and location of the emergency and ask for Search and Rescue.
Unless trained individuals are available the injured person should not be moved until SAR attends.
First Aid packs with blankets and first aid kits are kept at the Ole Sandberg Cabin and in the Day Lodge Office. If the victim cannot ski out on their own, use these packs to keep the victim warm until Search and Rescue can assist them.
 The RNSC owns a snowmobile equipped with a toe bar and a rescue toboggan that are stored in the maintenance building.
 The snowmobile is only to be driven by individuals that are familiar with snowmobile operation.
 Only trained first aid attendants are to use the rescue toboggan to transport injured persons.
 After rescue services have been contacted contact one of the following to report the accident:
Keith McNabb (RNSC Secretary)         (250) 837-5910
Dave Kaegi (RNSC Past President)         (250) 837-8574
Natelle Fitzgerald (Club Manager)                (250) 837-8858
Matt Smider (Club Coach)         (250) 683-9012
Updated February 2014