Team Scream: February 28th
By editor
In Events
Feb 16th, 2015
0 Comments
1579 Views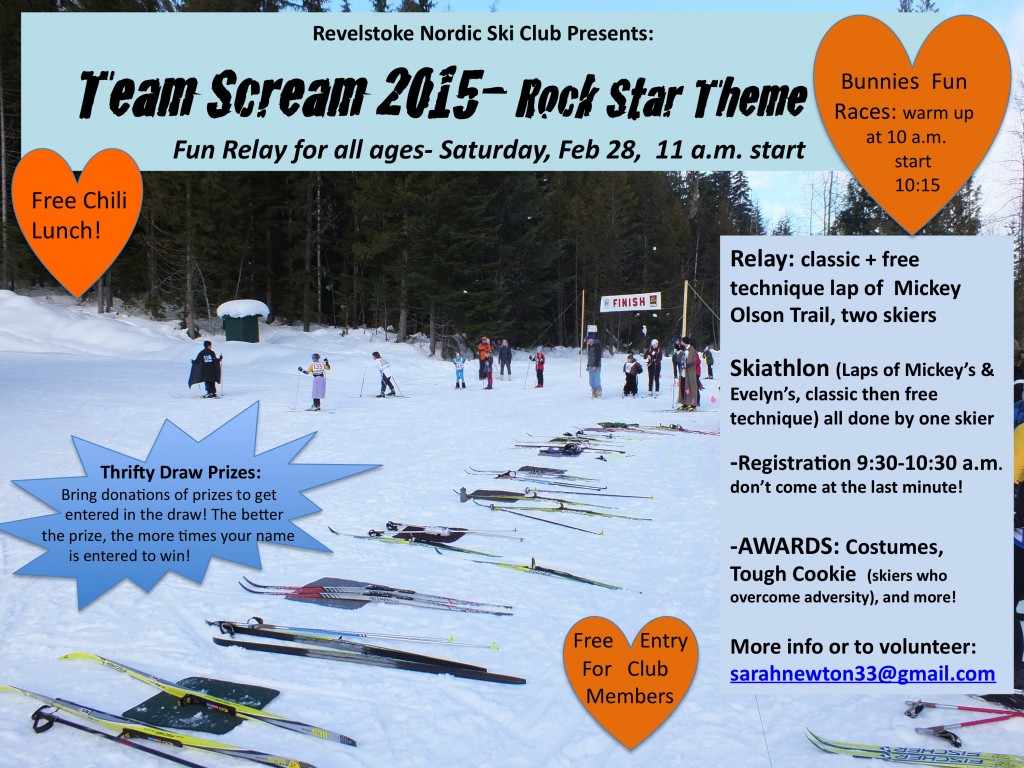 Hello Friends in our awesome cross country ski community! The best race of the year is fast approaching – the annual RNSC Team Scream Tandem Relay Race will be held this year on Saturday February 28, 2015 at the Mt Macpherson Ski Trails.
Mark your calendars,
February 28th, 11 a.m.
start, registration is from
9:30 to 10:30 a.m.
don't be late!
(Bunnies Fun race will start with warm up at
10 a.m.
, race at
10:15 a.m.
around Titan)
Parents, this is your time to show your kids how to be part of a great family of skiers! 
Reply to this email with a job you would be able to take on.
*R means you can still race (you may need to be strategic about which leg you choose)
-Bib sorter, before the race (could be days before) R
-
Before the race help setting up the start line, transition mats for skiathlon, putting V Boards up on course to keep kids on course, arrive at
9 a.m.
R
-After the race putting away the start line, mats, V Boards R
-Bib collector at the finish line, arrive at
9:30 a.m.
R
-Helping with lunch on race day, arrive at
9:30 a.m.
R
-Marshal needed for the intersection of Evelyn's with Mickeys (only skiathlon folks doing Evelyn's) arrive at
10:30 a.m.
-Marshall for the stretch in front of lodge, keep it clear for racers, monitor skiathlon transition, arrive at
10:30 a.m.
-Photographer(s), to get lots of photos for Facebook & for our end of the year banquet
-Start/Finish line tent manager in charge of setting up and tearing down of the tent, by
9:30 a.m.
R
-Parking lot and stadium clean up person after the event R
-Sweep behind last skier. This can be a parent who is accompanying a slow 2nd lap skier R
-First Aid person, the club has a first aid kit for you to use if needed, arrive at
9:30 a.m.
-Lodge clean up person after the race R
-Write an article for each of the local media providers R
There is no cost for the race if you are a club member – non members pay the day rate.
Related Posts By Category