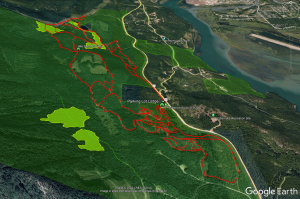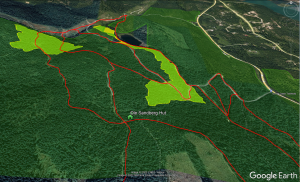 BC Timber Sales (BCTS) has informed stakeholders of the Macpherson Trails area of the intent to log. The RNSC has sent a formal reply and is engaged in open discussion with Emma DuCharme (RPF), the BCTS Planning Forester heading up this work, who states: "BCTS will continue to work co-operatively with the RNSC to maintain and improve Nordic infrastructure while carrying out forest management activities in the area.".
The main points of our formal letter encompass the following:
● Logging impact on, and description of RNSC trails and our user experience
● The timing/season in which cutting will take place
● "Leave strip" sizing and placement
● End of project road remediation
● Notifying our members
● Understanding the long-term overall plan for forestry practices in the area
We would like our members to be aware and informed of the proposed logging that will take place around Log Roller, Cedar Ramble, Novice Glide, Creek Crawl, and Beaver Lake Road. BCTS has maps that can be viewed here by following Columbia Field Zone/Consultation Maps/Wetask Macpherson or by the specific map of our area found here. To orient, the lake beside proposed block K6YD is Beaver Lake and K6YF is by Log Roller. Proposed blocks K7GL and K7GK are beyond our trail network but will be visible.
We welcome any member's questions in regards to this logging, as does BCTS. Please contact either of the following with your questions/concerns:
The RNSC will continue to update this page as more information comes forth.
*****
June 13 Update:
Thank you to BCTS for being such great communicators. We have a couple of updates of information for our membership:
The logging will take place between April 15 – Nov 15th. Therefore will not interfere with the Nordic season.
Upgrades will be undertaken on affected existing roads through various methods, such as improving drainage, conducting brushing, and grading the road surface. No new roads will be constructed for these blocks.
*****
Aug 24th Update:
Representatives of BCTS and RNSC met for an in person site visit on Aug 24th. Both groups agree this was a very informative session with knowledge and ideas being shared. The main purpose of this visit was to look at and discuss the proposed logging while on site in order to be able to share information, and identify concerns and opportunities.  Points taken from this discussion are being investigated and followed up on. Updates for our members from this meeting include:
There will be improvements to drainage and road surfaces on Novice Glide, Beaver Lake Road, Cedar Ramble, and Log Roller. This will include widening of trails, re-ditching, and upgrades to culverts.
No logging is taking place during 2022.
No further in person meetings are currently scheduled. However communication will remain open and ongoing between the organizations.