Daily Use Trail Fees and Annual Passes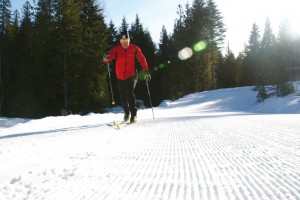 Daily trail fees can be purchased from the Ticket office from 9am – 3:30pm daily. When the office is closed, please pay daily trail fees into the fee vault (yellow metal box outside the lodge near information boards) using the fee envelopes provided.
All annual passes are sold through Zone4.ca.  Click here for the RNSC Registration Page for 2016/2017.    All annual pass holders must purchase the additional $19 fee for Cross Country British Columbia (CCBC) insurance (included in prices below). That is, for a family pass, the insurance fee is applied to each member, including children five years of age and under.  Passes are available for pick-up in the ticket office approximately one week after purchase.
| | | | |
| --- | --- | --- | --- |
| | | Daily Pass | Annual Pass |
| Child | Age 5 and under | Free | $19 |
| Youth | Age 6-16 | $5.25 | $61 |
| Adult | Age 17 and up | $10.50 | $145 |
| Family | One or two parents or guardians and their children under 17 years of age | $26.25 | $278.25 plus $19/person CCBC insurance fee |
| Ski touring/ Snowshoeing | Parking fee per vehicle | $5.25 | $21 |
These prices include the mandatory 5% GST.
Snowshoe trail fee
$5.25 per vehicle
New for 2015/16, the Seven Bridges snowshoe trail!  It is 4.5 km of rolling terrain through forest and cutblocks. It roughly follows the Stimulus bike trail. Seven Bridges is dog friendly, but be mindful it is close to ski trails.
Parking fee for backcountry skiers
$5.25 per vehicle
"The Fingers" are accessible via the Mountain Climb Trail.  A parking fee is required to help offset costs associated with grooming and clearing the parking lot. Backcountry skiers are welcome to use the day lodge to get ready during opening hours. "The Fingers" is avalanche terrain and outside the club's User Agreement area. Skiers will need backcountry travel knowledge and gear.
Refund Policy
In cases of legitimate health issues or unforeseeable circumstances to one of the clubs' members a partial refund of their season pass will be considered under the following circumstances:
1. That the member is operating with an element of good will,
2. That the member is able to supply a medical note from a medical doctor,
or a reasonable explanation of the unforeseeable circumstances they face,
The Club Manager will issue a pro rated amount of the season pass up until
December 15th, and then no refunds after that date. The refund will include seasons pass amount only and not the CCBC insurance or the Club membership portion that was paid.
Funds
Funds generated by the club are used to operate, maintain, and replace its assets. We recently purchased a brand new groomer to keep our extensive trail network in top-notch condition, and so we hope you appreciate the conditions and the facilities provided by the RNSC.  We would also like to mention that the activities undertaken by the club, including trail grooming, trail maintenance, and machine maintenance, are largely accomplished through volunteer time of its members.  Paying your fees helps us build and maintain our club, and it honours the efforts of our volunteers and the commitments of our members.