Whether you are looking to improve your skills or your race times, the RNSC has something for you in the 2016-2017 Season.
Details for the programs are listed below, and you can register at Zone4.ca using this link to the Revelstoke Nordic Adult Lessons 2016-17 registration page.
Payments can be made online (some service fees apply) or at the day lodge during office hours.
TRAINING
Introduction to the fundamentals of Nordic skiing (classic or skate)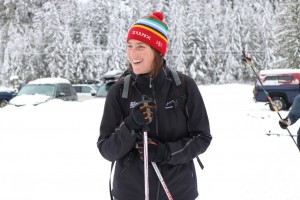 Course of four evening lessons to introduce beginners to one of two cross-country skiing techniques (classic or skate).
Cost: $60/4 sessions
Mondays 7-8:30 pm
Classic: Jan 16, 23, 30, Feb 6.
Skate: Feb 13, 20, 27, Mar 6.
Intermediate to advanced Nordic skiing (classic or skate)
Technique-oriented instruction for those pursuing the never-ending learning curve of cross-country skiing. Fast gains can be made by tweaking your technique. Classes are focused on classic or skate technique, alternating weekly. Choose between two sessions offered weekly.
$125/10 sessions
$75/5 sessions
Tuesdays 7:30-9pm
Thursdays 12:30-2pm.
Starts Jan 10, 2017 with classic technique
**No sessions on Tuesday Jan 10, Thursday Jan 19, and Thursday Feb 16.
One-Day Clinic
For intermediate and advanced skiers looking for a quick injection to improve technique.
$20/2hrs
$40/4hrs.
Classic: 10am – noon
Skate: 1pm – 3pm
Sunday Jan 15, 2017.
Open Training
A structured ski work-out for adults.  Every non-Headlamp Heroes Wednesday, from 7-8:30pm.  Free for members, trail fees apply to non-members.
RACING
Headlamp Heroes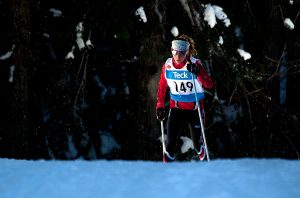 Local "Toonie" races are a great fun way to get a killer workout with fun low-key competition. All ages and abilities are encouraged to participate. Lots of door prizes!
Dec 21: Classic Interval Start
Jan 25: King's Court Sprint
Feb 22: Team Sprint
Mar 8: Skate Mass Start
The Masters' Ski Program for Adults
Whether you are interested in technique, training, or racing, the Masters' Ski Program has something for you. Please contact Sarah Newton (sarahnewton33@gmail.com) or Harry Van Oort (hvanoort@gmail.com) for more information.
Loppets and Teck Cup Races
This winter the Canadians Masters Championships will be held at Charlo, NB (Feb 13-18). Look here (link = http://www.crosscountrybc.ca/competition-schedule) for the complete line up of races in our area and beyond in the 2016/17 season. Below are some races of local note including one race in Revelstoke:
Jan 7-8: Teck BC Cup #1 (Salmon Arm)
Jan 14: Reino Keski Salmi (Salmon Arm)
Jan 29: Kelowna Apple Loppet (Kelowna)
Feb 4-5: Huckleberry Loppet (Golden)
Feb 11-12: Teck Okanagan Cup #1 & 2 (Revelstoke)
Feb 12: Overlander Loppet (Kamloops)
Feb 17-19: Teck BC Championships (Kamloops)
Mar 4: Teck Kootenay Cup #5 (Nelson)
Mar 12: Sovereign Lake Loppet (Vernon)