Ski Trails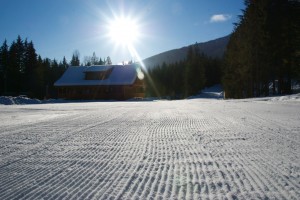 The Nordic Day Lodge and Mount Macpherson trail head is seven kilometers south of Revelstoke on Highway 23, on the West side of the highway, with an elevation of approximately 640 meters.  We show up as "Moth Pit Access Road" on google maps.
There are 26 kilometers of groomed trail. All trails are set for both classic and skating techniques. The best trails for skating are Mickey Olson Loop, Easy Al's, and Main Loop. Bathrooms are available at the day lodge, and there is an outhouse behind the Ole Sandberg Cabin. There is a large trail map situated beside the trail fee collection hut and smaller maps posted at main trail junctions.
There are 6 km of lit trails for night skiing from dusk until 9:30pm every night of the week.  Lit trails are Mickey Olsen loop, Evelyn's Choice, Dynamite, Titan, the terrain park, and the stadium.
Dogs are permitted only on the dog specific loop: Roadway Ramble, Easy Al's and BCIT Connector – Short Hop, Ellie's. The parking lot and stadium area is a mandatory on-leash area. Our complete Dog Policy can be viewed here, and the Dog Map can be viewed here.
Call our snowphone (250-837-7303) at any time to hear the latest grooming report, or check our online grooming report.
Ole Sandberg Cabin
The Ole Sandberg cabin is 2.5 km from the parking area, at the junction of Main Loop, Log Roller, and Creek Crawl. It's situated so that several different loops can be skied from its location. The cabin is heated with a wood stove and has a covered porch. An outhouse is located close by. First aid supplies and equipment (toboggan) are stored at the cabin as well. The cabin is not intended for overnight use.
Trail etiquette
Obey all signs and ski within your ability.

Pack out all garbage, do not litter.

If you happen to fall, fill in your hole and fix the track.

Avoid herringbone on set tracks.

When stopping, move to the side of the trail.

Skiers coming downhill have the right-of-way.

Slower skiers should give way to faster skiers.

Faster skiers should give a courteous warning when passing slower skiers.

Do not walk or snowshoe on set tracks.
In case of emergency
You are responsible for your own safety when skiing the Macpherson trails. You can help yourself and others by carrying a cellular phone and being able to describe where your location. Should a situation arise where you or someone else requires assistance, contact Revelstoke Search and Rescue. They can be reached through the RCMP by calling 911. Revelstoke Search and Rescue is a volunteer group that maintains a snowmobile with a toboggan, and have members trained in first aid. Call ahead to the hospital, 250-837-2131, to let them know you are coming.
While waiting for the snowmobile to arrive (this will take awhile), it is important to keep the victim warm. The club provides backpacks containing insulating pads, blankets, and first aid kits. These are kept at the Ole Sandberg Hut and at the trailhead booth in the parking area. The groomer also carries first aid materials.
To avoid this situation:
Always ski prepared. Bring water, extra clothing and snacks.

Keep to the marked trails.

Tell someone where you are going.
For our complete Rescue Plan, please click here.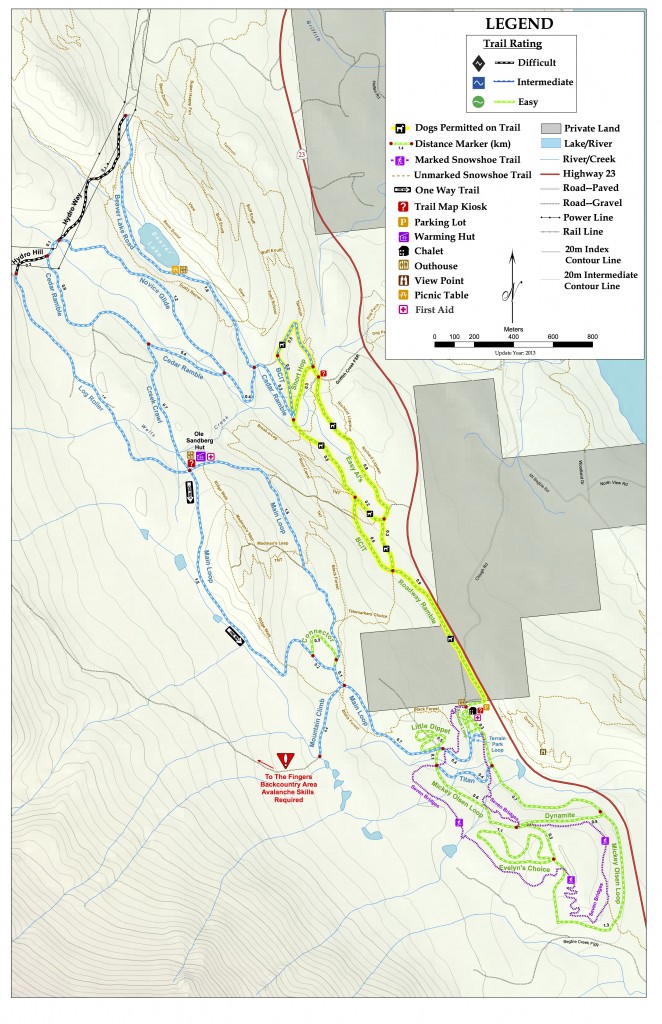 Do you use Google Earth?
Download the .kml file.
KML file supplied by Douglas Sproul of GeoBackcountry.com