About the Revelstoke Nordic Ski Club
The Revelstoke Nordic Ski Club can trace its roots back to 1891. Today the club is a registered non-profit organization. Almost all of the services provided by the club are accomplished by the hundreds of volunteer hours of its members. These services include trail maintenance, trail grooming, groomer servicing, special events, website maintenance, our newsletter, and a Ski League Program for children.
Under the provisions of a User Agreement with the BC Ministry of Forests and Range, our club maintains a system of ski trails on Mount Macpherson. The trailhead is 7 km south of Revelstoke on Highway 23, at an elevation of about 640 metres.
The Revelstoke area is famous for its huge snowfall (almost 350 cm per year measured at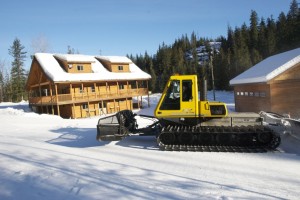 the Revelstoke Airport) and the trail system's easterly aspect helps keep snow conditions excellent. Approximately 26 km of trails are groomed for both skating and classic technique with a Bombardier BR275.
Grooming usually starts in late November with a final grooming in late March.The User Agreement requires the trails to be groomed at least once a week (usually prior to the weekend or after a significant snowfall) and it authorizes the club to collect fees for trail use.
New for the 2014/15 season, the club has installed lights to illuminate six kilometers of trail! The trail lights have been installed on the following trails: Sprint loop, Terrain Park, Main Loop up to Mickey Olson Trail turn off, Mickey Olson Trail, Evelyns Choice, Titan and Dynamite Trails. The lights are activated by a solar solenoid as it begins to get dark in the evening, and turn off by a pre-set timer.
Thanks to our supporters!
Our club enjoys tremendous volunteer support from our members and the community.
We wish to say a special thanks for the support of:
The Club would like to thank all of the donors that made our day lodge possible. It couldn't have been done without your help. Check out the list of donors here.